PlayPro
The ProGreen PlayPro turf system maximizes the fun for schools, daycares, or parks by offering a super safe and fully customizable play environment.
PlayPro
No Single PlayPro is the Same.
When we say customizable, we mean it. Because we manufacture all of our turf in-house, we can create any type of play environment you'd like. Large, small, custom shaped, and with any activity lines or boundaries you can imagine. We can even add logos to the turf to build your brand or encourage school spirit. PlayPro is the perfect play area solution for schools, daycares, playgrounds, hotels and resorts.
Please note – warranty varies by location and by installer. If you are getting the turf installed by a ProGreen certified installer, the warranty can range from 8 years to 15 years. If you are purchasing the turf only and not having it installed by a ProGreen certified installer, the warranty is 8 years.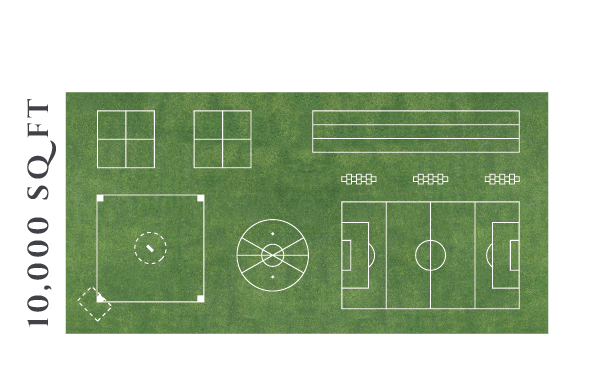 SPECIFICATIONS
Primary Yarn Face:
Monofilament – Olive Green/Parallel Slit – Field Green
Face Weight:
70 oz. per sq yd*
Total Product Weight:
100 oz. per sq yd
Thatch Yarn:
4800 texturized Polyethylene thatch, Field Green/Beige
Primary Backing:
Proprietary QuadriBIND™ Backing
Perforations:
No perforations
Secondary Backing:
ProFlow patent pending backing
Warranty:
8 year (See full warranty for terms & conditions)
Ready to be done with muddy shoes and lawn destruction?
ProGreen can help you find the perfect Playground Turf.