Artificial Lawn Installation by ProGreen
ProGreen offers custom artificial lawn solutions that fix the common problems many homeowners face with their natural grass yards.
Synthetic Turf Lawns for Homeowners
Whether it's too labor intensive to maintain a stunning yard or just impossible to get natural grass to grow. When you decide to install an artificial lawn from ProGreen you can believe that you'll have beautiful, lush grass all year long with minimal effort.
Artificial Lawn Installation Since 1987
ProGreen has been working for over 30 years to develop the most natural and durable artificial lawns in the industry. Our line of artificial lawn turf features an array of products that can accommodate low traffic areas, to high traffic areas. All the while ProGreen's turf maintains its soft texture. This is a result of our Supersoft™ fiber technology. This one-of-a-kind technology enhances the softness of the artificial grass blades, while maintaining their fiber strength. The end result improves the synthetic turf's overall structural integrity.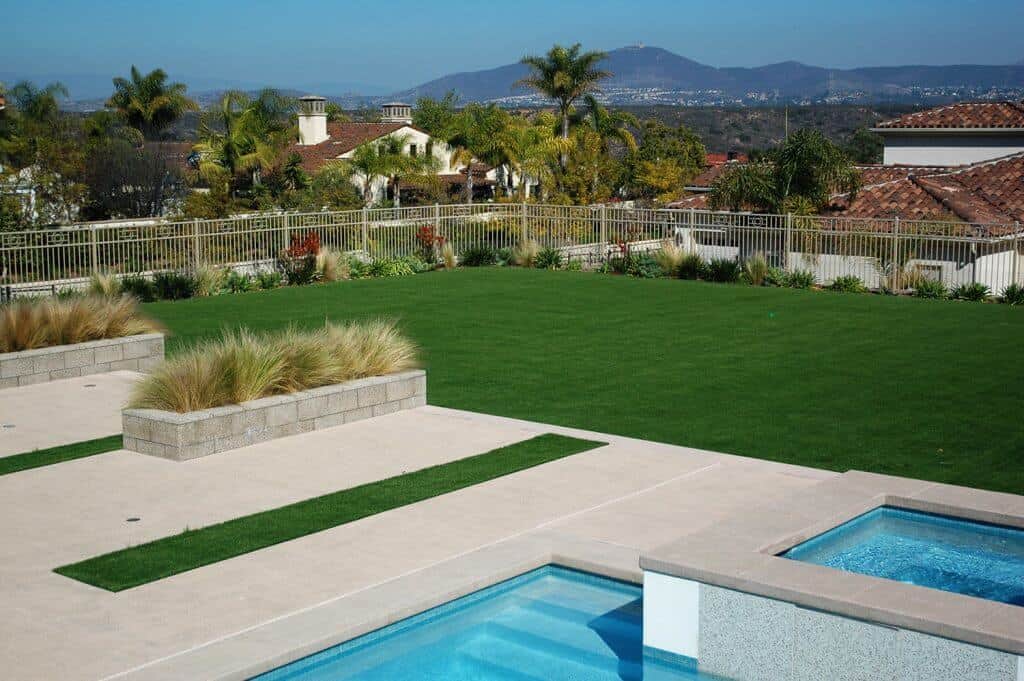 Ready for a Worry Free Artificial Lawn?
If you are ready to start enjoying your lawn, instead of maintaining it, contact ProGreen today.
Our team of artificial lawn experts will provide you with a FREE QUOTE!
GET A FREE QUOTE
ProGreen Quality Artificial Lawns
Our artificial turf is 100% made in America from start to finish. This ensures ProGreen has complete control over the manufacturing process. We're able to pay extra attention to the little details that will make a huge difference in your yard.
ProGreen Turf Difference:
Each individual layer of our turf is treated for ultraviolet degradation. We also expose each layer to sun and extreme temperatures. These treatments allow all of ProGreen's artificial grass to look just as good as the day it was installed. We also ensure that all of our fibers go through a de-lustering process. This additional step helps to eliminate any unnatural shine that artificial grass may have. It's this extra effort that allows you to enjoy a stunning, low-maintenance yard for years to come. ProGreen's landscape turf is free of lead and other heavy metals. Since our turf doesn't have these contaminants, we know it is 100% safe for children and dogs. Our manufacturing process is held to IPEMA safety standards. These are the exact same standards as children's toys.
Keeping Your Artificial Lawn Cool
Sometimes during the warmer Months it is possible for turf temperatures to increase. Our expert manufacturing team at ProGreen provides you with a proprietary turf cooling system. We have the ability to add our exclusive Green Play Cooling Infill to your artificial lawn project. You can hear more from some of our real customers and their positive experience by clicking here. Our main focus is to provide your family with the safest product on the market. Which is why ProGreen continues to research and develop new turf technology. Our cooling system is powered by the "Corkonut®" infill. The fibers have a large diameter and thick walls which allow them to retain and store moisture for a long period of time. The moisture releases from the fibers which in turn provides a lower ambient turf temperature.
Key Benefits of Installing an Artificial Lawn with ProGreen:
Not only does a new turf lawn benefit the look of your home but it also helps to lower your economical footprint. By installing a ProGreen Synthetic lawn you will no longer have to mow your grass. Thus eliminating emissions from your mower and groundwater contamination from oil and gas. Additionally, you will use significantly less water to maintain your new lawn. Due to the fact you don't have to water synthetic turf you will be helping to conserve water in your community. Not to mention all of the savings you will recognize with a lower water bill. Finally, you won't have to continue dumping harmful pesticides and chemicals into your new lawn. In order to maintain a green natural grass lawn year-round you typically have to add multiple bags of additives on a regular basis. This harmful chemicals run-off of your lawn and into your local groundwater supply. In conclusion there are going to be a lot of benefits once you decide to install a synthetic turf lawn at your property.
DIY vs Professional Turf Installation:
If you're going to use a professional installer of turf our ProGreen team would love to be of assistance. For the DIY'ers out there, ProGreen has actually put together a step by step guide for how to install artificial grass. We are fully transparent with our processes and realize that you might be able to do the installation yourself. ProGreen also can connect with you with one of our local turf specialists who have years of turf experience. Listed below are the next steps if you decide to work with ProGreen to install turf in your yard.
Next Steps Working with ProGreen:
Complete an online estimate request
In-Person Meeting with turf specialist
Select your turf type and new backyard layout
Receive your free custom quote
Removal of existing grass, dirt, stumps, roots, etc.
Installation of permeable base below turf
Install of synthetic turf
Adding of infill or cooling technology
Enjoy your new artificial lawn
We will always provide you with the best possible customer experience. Which is why we provide you with a free custom quote for your project. We typically provide you with a price per square foot cost estimate. This means that your cost will include the turn key installation of your artificial lawn. You can connect with us over the phone, or clicking here to complete a Request Estimate form.