PROGREEN COOLPLAY
ProGreen CoolPlay Turf is the solution to heat-related issues with artificial turf.
PROGREEN COOLPLAY
ProGreen's CoolPlay is the solution to heat-related issues with artificial turf, one of the main deterrents for homeowners considering going synthetic with their lawns. You can walk, play, or lounge barefoot on ProGreen CoolPlay turf because of the 100% plant-based, organic infill. This organic infill mimics the temperature of natural grass by capturing and then slowly releasing moisture. Start realizing the benefits of a heat-resistant artificial lawn by choosing ProGreen CoolPlay.
See results of the heat tests performed by the University of North Carolina Wilmington Sports Lab.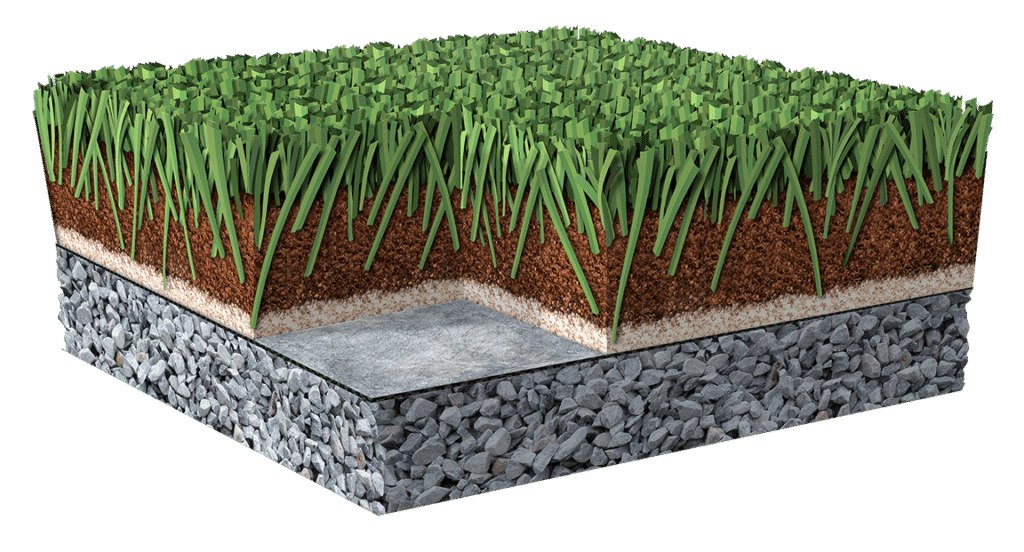 Want to experience the next generation of artificial turf?
Let's chat about your CoolPlay turf project.
GET A QUOTE
Cool Turf, Scientifically Proven
Temperature stays within 30° F of natural grass, even when sitting in direct sunlight all day.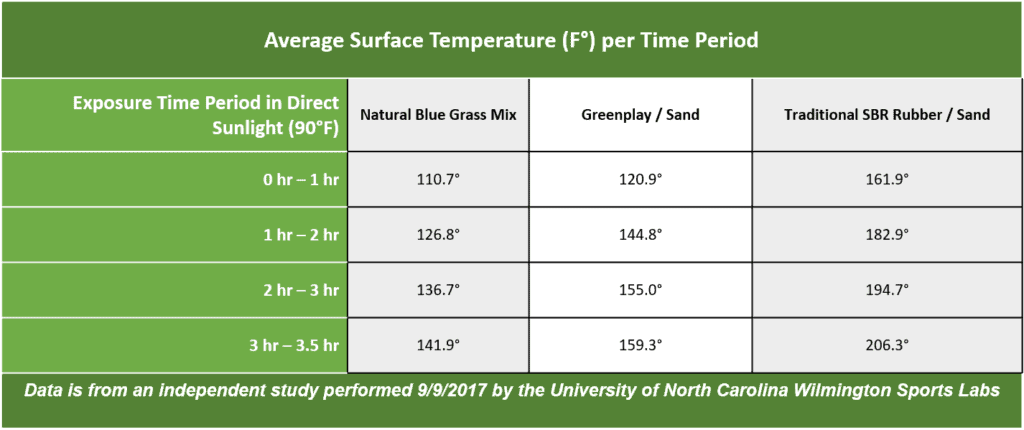 Plant-Based Approach
The plant-based infill absorbs natural moisture and slowly releases it back into the atmosphere in an evaporative cooling cycle just like natural grass. The organic infill is also a very low-bulk density and doesn't absorb as much heat from the sun. These are the two main factors that make ProGreen CoolPlay the industry-leading artificial grass that stays cool. Check out the data for yourself: the FIFA Method 14 test classifies ProGreen CoolPlay as Category 1, which is the same category as natural grass at <122° Fahrenheit.
CoolPLay: Safe for Leisure and Play
Some landscape turf can be abrasive to the skin, which is an obvious issue if you have active children who want to play in the yard. ProGreen CoolPlay uses a proprietary fiber formula that reduces the abrasiveness of the surface so that it has an extremely similar texture to grass. The abrasive index of natural grass is rated as 20 (ASTM F1505), ProGreen Cool's average rating is 21.2. Take a look at the abrasion test results from Sports Labs USA.
Natural Fibers Create a Supportive Matrix
ProGreen CoolPlay utilizes a one-of-a-kind production technique to fortify the blend with additional natural fibers that create a matrix within the infill layer, which binds and stabilizes itself within the turf fibers. Once settled, this cohesive matrix provides unmatched stability.
CoolPlay Turf is Environmentally Friendly
The ProGreen CoolPlay turf system is pesticide-free, non-toxic, and the organic infill is 100% recyclable in nature. All ProGreen turf is 100% made in American, from start to finish which guarantees that our turf quality is the best in the industry. The proprietary ProGreen CoolPlay infill absorbs over 150% of its weight in water and only requires 10% of the water needed for natural grass to stay cool for weeks on end.
Affordability
A critical benchmark was to make the ProGreen CoolPlay accessible to meet most budgets. The components in this system were engineered to achieve the utmost in beauty, safety and affordability. Contact us today to request an estimate for your project.
ProGreen's CoolPlay Turf Installed at The Goddard School
Recently The Goddard School in Mt. Pleasant, SC installed ProGreen's CoolPlay turf system in their ourdoor recreation areas. Hear about what one of the owners had to say about their installation expereince and about the CoolPlay turf system.