Artificial Turf for Pet Care Facilities
Did you know that the number of American households with dogs has increased from 46 Million to 63 Million in the past 10 years? That's an average increase of 1.7 Million homes adding a dog to their family every year.
Best Dog Grass for Heavy Traffic
As pet ownership rates increase and dogs continue to become a part of more families, the demand for boarding facilities also increases. Pet owners are wanting a home away from home for their pets. A place where they can trust the staff and facilities and know their pet will be safe and happy.
As an owner of a facility that caters to pet care, you understand the challenges of providing a safe and comfortable environment for your furry clientele. Sometimes it can be tricky to know which investments will provide an ROI, and which are money pits. When you invest in artificial turf, you're investing in a fixture of your business that will:
get more customers in the door
provide a safe and comfortable environment for pets
save you time and money on maintenance and cleaning
provide years of utilization
Keep on reading for more on these benefits below!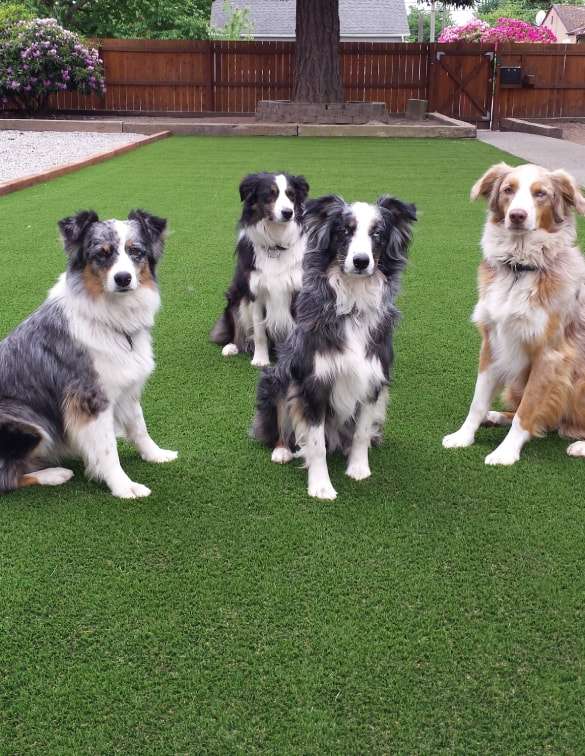 Interested in Investing in Artificial Turf for Your Facility?
We're here to help you through the process. Start by requesting a quote today.
GET A QUOTE
Benefits of Installing Artificial Turf at Your Pet Facility
Reduced Time and Spend on Maintenance
The main reason to invest in artificial pet turf is the cost and time savings on maintenance. With natural lawn you have to worry about:
dogs digging and destroying the lawn
dogs getting muddy and dirty and bringing that mess into the facility
grass dying from heavy play and urine
Pet turf resolves these issues. No more spending time and money trying to save your green space from destruction. No more scrubbing down dogs to remove all the dirt and mud (and all the cleaning to the facility from what the dog brings in).
Brand Value
If you invest in a pet friendly artificial turf, you're investing in the most important part of your business: your brand. You want to "wow" visitors of your facility. There is no better way to do this than to invest in your appearance and features. This investment could very well be the deciding factor between you and your competition.
Think about it: pet owners don't want their dogs to be stuck in a cement enclosed room or playing in a mud yard full of germs and who-knows-what. Repeat business hinges on an overwhelmingly positive first brand experience, and pet turf does wonders to improve your brand.
Longevity of Investment
Artificial grass is not cheap. When you're making an investment of this caliber, you need to make sure the turf will last a long time so it can provide a return on investment. In standard applications, artificial turf provides an ROI at year number seven. Our turf comes with an 8-year manufacturer warranty, but if treated properly can last up to 20 years.
When it comes to making an investment for your pet facility, choose something that will truly make a difference. Artificial pet turf reduces maintenance time and costs, improves your brand, and will provide an ROI. Contact us today to get a quote for your project.