PET TURF
Our pet turf is great for backyards, dog runs, kennels, daycare facilities, dog agility courses, and more.
PET TURF
ProGreen is proud to feature the highest quality pet turf in the industry because we've been innovating and improving turf since 1987. Our pet turf features low pile heights and an innovative backing that makes waste cleanup easy. This turf can also handle immense amounts of traffic and play from your four-legged friends, providing you peace-of-mind that your turf investment will stand the test of time.
All ProGreen turf is pet friendly, certified lead free, and soft for your beloved pets' paws. Our two low-pile height products are K9 Deluxe and K9 Champion, both of which are fantastic turf options for pet yards, dog runs, pet boarding facilities, vet offices, and more.
Recently, YouTube dog training sensation Zak George utilized our K9 Champion turf when playing fetch with a highly active Labrador retriever named Goose. Nothing showcases the performance of our artificial grass for dogs than seeing it in action for yourself. Not only did our turf withstand the aggressive paw traffic from Goose, but it also is one of the softest synthetic grass products that Zak has ever felt.
If you've had all you can handle with your dog's destruction to your yard, artificial pet turf will give you back a piece of your sanity. No matter how many dogs you own or their size, ProGreen's synthetic turf for dogs will be able to withstand the wear and tear of their paws and claws. In addition, it will eliminate any issues you have with mud and puddles.
Ready to be done with muddy paws and lawn destruction?
ProGreen can help you find the perfect Pet Turf.
Pet Turf Drainage
The most important feature to consider before purchasing artificial turf for your pets is drainage. Drainage efficiency is ultimately what eliminates mud and puddles from a yard, which is one of the biggest perks of pet turf. In addition, drainage is extremely important for eliminating the complications of turf and pet urine.
Most turf available on the market has perforated backings, which means pet urine has to make its way to drainage holes before passing through the turf. It is not uncommon for liquids, including urine, to rest in the areas between these drainage holes which results in a terrible odor. On top of that, the infill that is used to weigh down the turf can make its way to the drainage holes and completely block them. This blockage is bad because it can create puddles of urine or water on top of your turf.
All of our canine products feature our patent-pending ProFlow technology, a non-perforated backing that increases drainage capacity by over 100% and allows pet urine to drain through any point of the turf. With a flow-through backing like ProFlow, the urine does not need to find these holes to drain; it just drains right through. Our turf backing also eliminates the issues with infill clogging drainage holes, because there are no drainage holes!
Learn more about the importance of drainage for pet turf.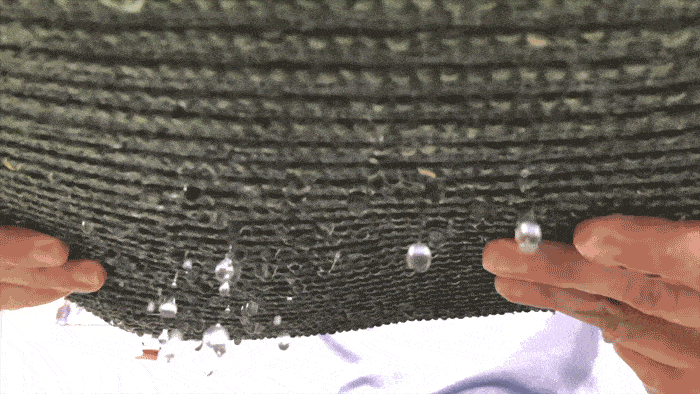 How Durable is ProGreen Pet Turf?
In case you are wondering whether or not ProGreen artificial turf can really stand up to your big dogs, it might ease your mind to know that our K9 Deluxe 60 has been installed in military canine training facilities across the country, as well as countless dog boarding facilities, including Wet Noses Dry Paws in Tacoma, WA and The Doggie Chalet in NJ. The product was designed to meet the needs of pets. It is tough and resilient, but still incredibly soft. In short, dogs love it and so do their owners.
Our K9 pet grass is great for backyards, dog runs, kennels, daycare facilities, dog agility courses, and more.
Our Pet Products
Uses:
K9 Terra is an excellent turf option for property owners looking for a durable and extremely realistic product. The extra high brown thatch makes this turf look just like natural grass, while the blended diamond and S-shaped fibers provide amazing resiliency.
Face Weight
55 oz. per sq yd*
Uses:
Constructed to withstand the best our furry friends can dish out, our K9 Deluxe pet-friendly turf has a 55 oz weight which combines economy with lush practicality. The ProFlow and QuadriBind backing ensure maximum durability and superior drainage, making this one of the top K9 turf's available on the market.
Face Weight
55 oz. per sq yd*
Uses:
Great for High Traffic Areas, Dog Runs, Pet Kennels, Dog Parks, Roof Tops, Commerical Common Spaces
Face Weight
65 oz. per sq yd*