ABOUT TURFSIDE, PROGREEN CERTIFIED DEALER
The only thing better than having an expansive backyard at your home is having one that doesn't require much effort to maintain. With artificial grass, you provide your family and pets with a safe environment for outdoor play. There are no harsh pesticides or fertilizers, and there are no ant hills or wasps. No matter the season, weather or foot traffic, your lawn will continue looking lush and healthy all year long.
We are a small family owned business who strive to provide world class service for every project, large or small. As a family with 5 beautiful Goldens we know how important it is to enjoy our families and lives. We aim to deliver a product that conserves our planet.
Artificial grass has an expected lifespan of over 20 years, so you don't want to risk installation problems by hiring an inexperienced/cheap contractor. You need someone that you can trust to do the job, and to do it right. When you hire Turfside, you know you are getting artificial grass installation experts who will ensure your yard is impeccable. Whether we're working with an individual client or a company, we guarantee you'll receive only the best quality products and service from us. Let us know what we can do for you today.
ProGreen Synthetic Grass is made in the USA from start to finish. We have two manufacturing plants, and we know exactly what goes into our products. As such, we can say with confidence that we provide the Jacksonville area with the best product on the market. Our grass is durable, resilient and features superior drainage. In fact, your kids and pets are safe to play on our artificial turf only 15 minutes after a rainstorm, and you do not have to stress about mud or puddles.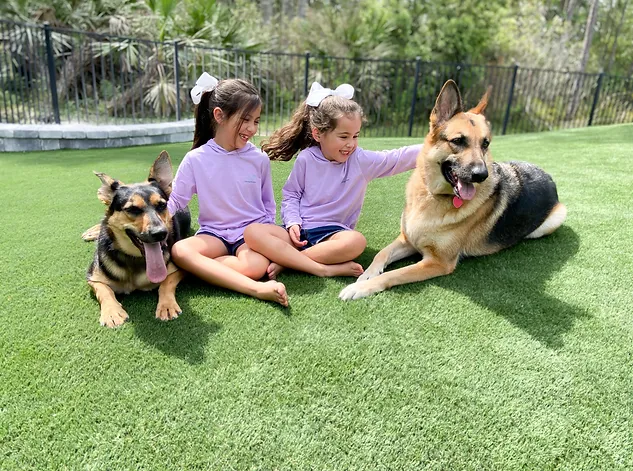 Turfside did an amazing job. Jason and his crew were on time and on budget, with an incredible work ethic. The yard turned out great because they were meticulous with the details. We've worked with many service companies, but TURFSIDE set the standard high. I would strongly recommend them to anyone looking for a maintenance free yard.
- Tom R.
Jacksonville, FL Resident
Amazing amazing work. Family owned and attention to detail is beyond the norm. The owner Jason is here every minute of the job, driving the machines and manually doing everything along side the workers. We are so happy with our amazing backyard.
- Sasha C.
Jacksonville, FL Resident
Doing pool design for the last five years as interior designer I have worked with many trades. Turfside has been amazing and every one of my clients who has added turf to their project, is thrilled with the outcome and the workmanship! Five stars for this excellent company!
Tanya J.
Interior and Pool Designer in Jacksonville, FL
START WINNING YOUR WEEKENDS
Our team would be happy to walk you through the installation process and provide the perfect turf for your project.
"*" indicates required fields