How Artificial Turf is Manufactured
Artificial turf has taken the landscaping world by storm, providing homeowners and business owners a low-maintenance and aesthetically-pleasing alternative to natural grass. But have you ever thought about how this grass alternative is actually made? Wonder no more! We will give you the inside scoop on the manufacturing process of ProGreen artificial turf, all within the confines of our very own American-based manufacturing plants. Join us for an exclusive peek into a world of intricate design, advanced technology, and top-grade materials that come together to bring your synthetic turf dreams to life!
Extrusion
Our artificial turf fibers are crafted to perfection starting from the very beginning at our extrusion plant in Alabama. We melted down top-quality resin pellets to produce the highest quality fibers. During this process, we add UV inhibitors, colorants, and other special enhancements to provide a durable and long-lasting product. Since these features are infused into the fibers themselves, they won't fade or wash away. This incredible process is called extrusion – where the resins are transformed into top-quality yarns.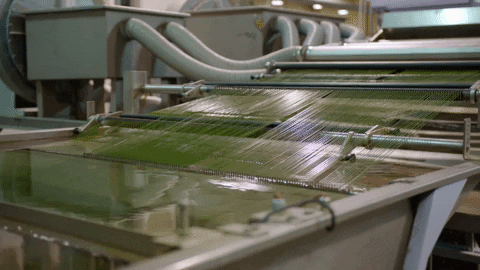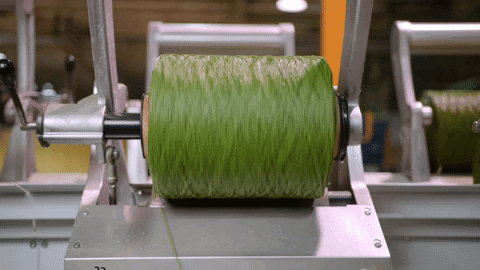 Tufting
We ship the finished yarns to our tufting and coating facility in Georgia. There, a high-speed tufting machine with hundreds of needles stitches the turf fibers into the backing fabric. Each roll is 15 ft wide but we customize the length of the rolls per the project specifications. The completed turf is rolled up and sent to our coating machine.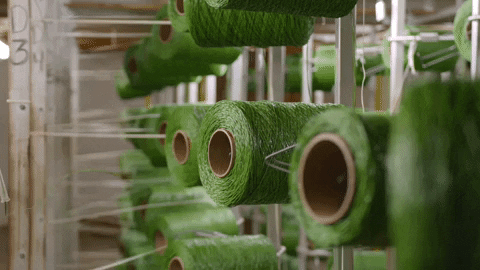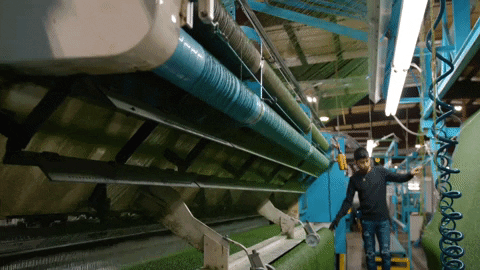 Coating
Our new state-of-the-art coater then applies a polyurethane coating to the back of the turf. The turf travels through an oven to cure – locking the fibers in place. Now, you may be wondering about how drainage will work after the we apply the coating. ProGreen utilizes a patent-pending process called ProFlow to our landscape turf products, making it the most efficient drainage system in the industry.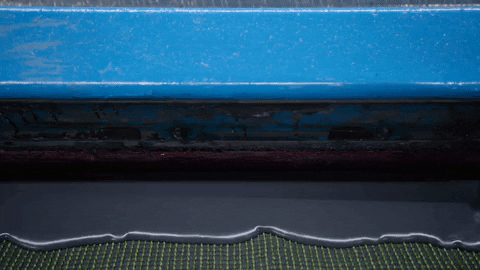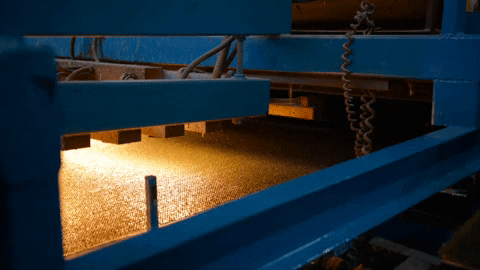 Inspection
Once the coating is complete, the turf then goes through an extensive inspection to ensure quality and consistency. We check for any tears or flaws in both the backing and blades of the turf. Once the turf passes all quality control measures, we package and store the roll until it's ready for shipment to our customers. As you can see, there is a lot of complicated steps in the manufacturing process, which is why you should be very picky about the artificial turf you choose for your project.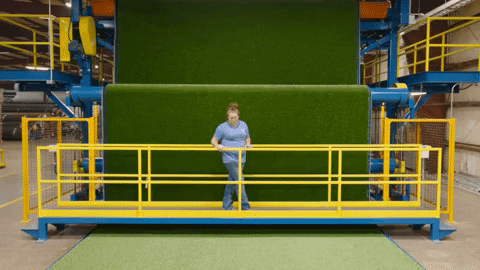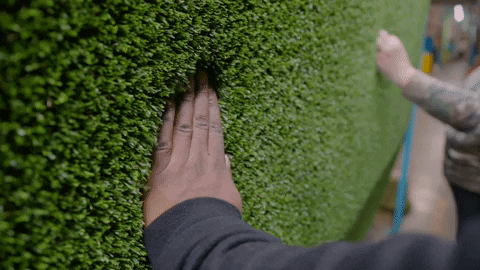 Installation
The final step of the turf's journey is installation – which requires significant attention to detail and patience. While you could tackle this as a DIY project, we highly recommend working with a ProGreen turf expert to ensure a successful outcome. The process starts by removing any existing natural grass or groundcover and preparing the base. This requires carefully considering existing fencing, decking, and landscaping. Then, we carefully rolled out, cut, and secure the turf in place. Lastly, we add infill to increase stability and make the turf look even more realistic. Take a look here for a more in-depth installation guide.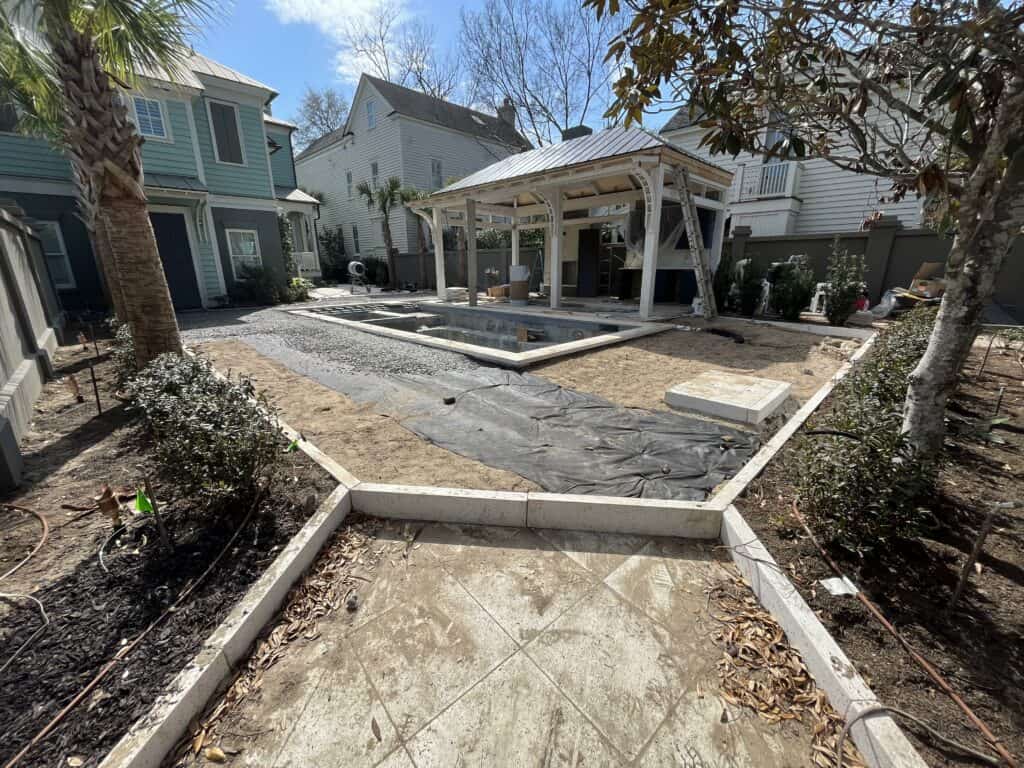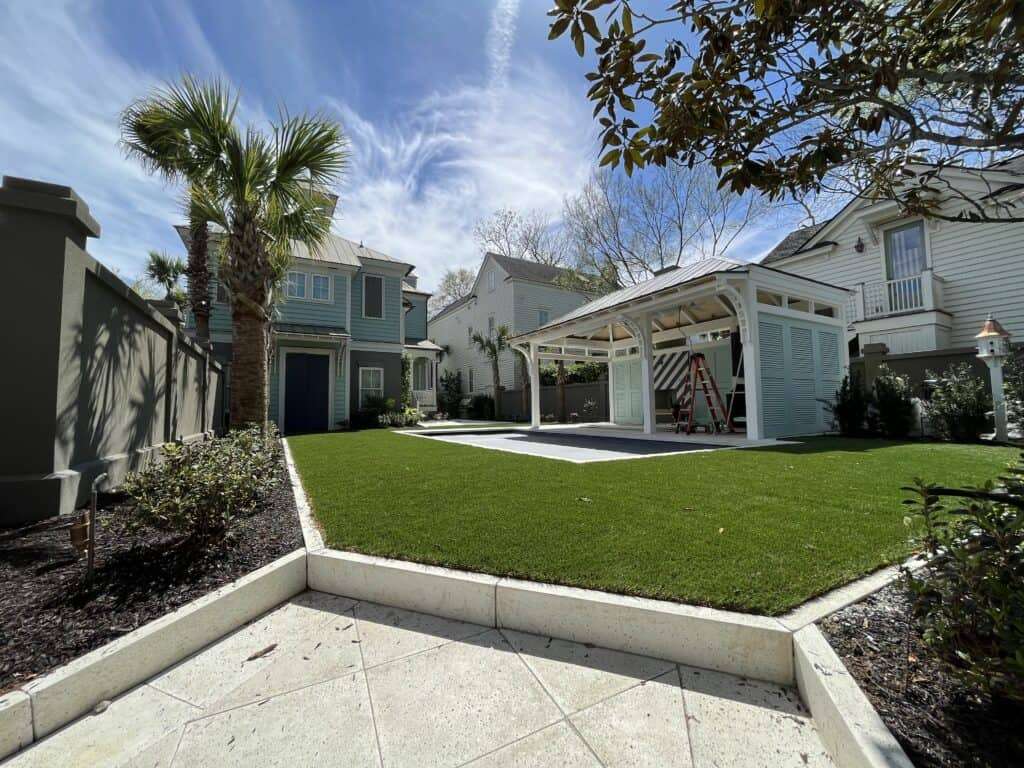 In conclusion, when it comes to sourcing yarn and tufting turf, many turf companies opt to outsource the process overseas or to a third party. However, this decision can come at a cost as it means sacrificing control over the process and ultimately, quality assurance. So, if you're looking for top-notch products that are proudly American-made, it's important to do your research. At ProGreen, we take full control of the entire process from start to finish, ensuring that we carefully consider and monitor every single aspect of our products. This means we can confidently stand behind our products, knowing that they're of the highest quality and American-made. Manufacturing artificial turf is a complex process that requires a lot of expertise, dedication, and equipment. So, if you're thinking of replacing your lawn with a more low-maintenance option, you can rest easy knowing that ProGreen provides one of the most durable and hard-wearing turf options available.
---