What Type of Turf Should I Buy for My Project?
There are a few factors that determine the type of artificial turf you should select for your project. The most important thing to keep in mind is that not all artificial turf products fit any application. You may think that putting green turf looks nice, but we would never recommend you having it installed as a landscape turf for many reasons. We're here to answer your burning question: "what type of turf should I buy for my project?"
THE FOUR CATEGORIES OF ARTIFICIAL TURF
Putting Green Turf
Landscape Turf
Pet Turf
Sports Turf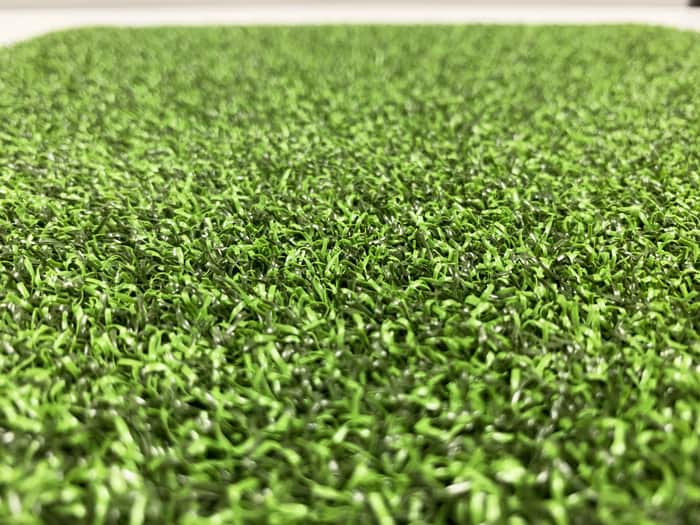 PUTTING GREEN TURF
If you are looking to install a putting green, you will need a shorter pile height turf that a ball can easily roll on. A nylon or polypropylene turf is best for putting greens.
Nylon – a nylon putting green is best for indoor greens and miniature golf courses because it does not require sand and very little maintenance. Our Nylon putting green turf is PG Augusta.
Polypropylene – a polypropylene putting green is best for outdoor and indoor greens for players that are looking for a more realistic green to practice on. Since a polypropylene green is a sand-filled green, you can adjust the speed and ball roll. Our polypropylene putting green turf is PG 4000.
When to use this turf:
Putting greens, bocce courts, and other specific activity spaces that don't require a "lawn" appearance. Putting green turf does not look like a standard lawn!
When to NOT use this turf:
Residential lawns, commercial lawns, or any application where you need the turf to look realistic. Nylon putting green turf products rarely have good drainage. Be wary about using this type of turf outdoors in areas that don't naturally drain well.
LANDSCAPE TURF
Landscape turf is most common style of turf and is mainly installed for aesthetic purposes. This style of turf comes in different colors, heights, and weights depending on your personal desired aesthetic and functional needs. Landscape turf can be used for front yards, backyards, and indoor and outdoor commercial purposes.
Shorter pile height – if the area in which you are installing the landscape turf has high traffic, you will want to install a shorter pile height turf to help prevent matting.
Taller pile height – if the area is strictly for aesthetic purposes with little to no foot traffic, then a taller pile height landscape turf can be installed in the area for a more realistic look to it.
When to use this turf:
Residential, commercial lawns, on pool decks, balconies, rooftops, and more. This turf can be utilized in many ways because it simply recreates the look and feel of natural grass, without the need for expensive and time-consuming maintenance.
When to NOT use this turf:
Do not use this turf in place of putting green turf. Be wary of using landscaping turf if you have pets. ProGreen's landscaping turf is all pet friendly, however, many landscape turfs on the market do not have the ideal drainage for pets. The worst thing that can happen is that you purchase a landscape turf for your home only to have pooling dog urine. Many landscape turfs do not have strong enough fibers to hold up to athletic use.
PET TURF
Another popular type of turf is pet turf. Pet turf is pet-friendly artificial turf that has a permeable backing for maximum drainage. If you do not install a pet turf, the area will begin to smell from the absorption of the pet's urine. This happens when the turf backing is made of urethane and is not flow-through, like our ProFlow backing. Pet turf comes in different pile heights, colors, and weights as well depending on your personal preference.
When to use this turf:
Do you have dogs? Then pet turf is obviously the ideal choice. If you don't have pets, this turf is also a great option, however it will likely have a shorter pile height than most general landscape turfs. This turf is also ideal if you require excellent drainage because it's built for pet "use". Pet turf can also take a beating because of the higher fiber density – which is great for higher traffic applications even if there are no pets.
When to NOT use this turf:
For obvious reasons, we don't recommend using this turf in place of putting green turf. It does make a great fringe for chipping onto a putting green, though!
SPORTS TURF
Sports turf is turf designed to have the utmost durability. This type of turf is more for using than admiring. As such, we do not recommend installing this type of turf for aesthetic purposes. When it comes to sports turf, you will probably also want a product that meets all "fall height" safety requirements of the ASTM. This is turf that passes a 5'-10' fall height test due to the nature of most sports. It's also great for playgrounds, whether in a residential yard or a public park.
For large athletic fields, we defer to our sister company, Sprinturf. Sprinturf has installed over 2000 synthetic sports turf fields across the United States with zero fiber failures to date.
When to use this turf:
Playgrounds, gyms, athletic facilities, small athletic fields (indoor or outdoor).
When to NOT use this turf:
Do not use this turf in any application where you'd like a natural looking aesthetic. This turf is for using, not for admiring.
CONTACT US
We hope this post answered your question, "what type of turf should I buy for my project". If you have any further questions, feel free to reach out. We'll help you make the right decision. Contact us today for a free estimate!