Backyard Putting Greens: The Perfect Stay-at-Home Activity
Due to Covid-19, we're all staying home way more often than before. You may be tired of binge watching another series on Netflix, and you probably want to get outside. Backyard putting greens are the perfect stay-at-home activity to keep you entertained while also being in the comfort of your home!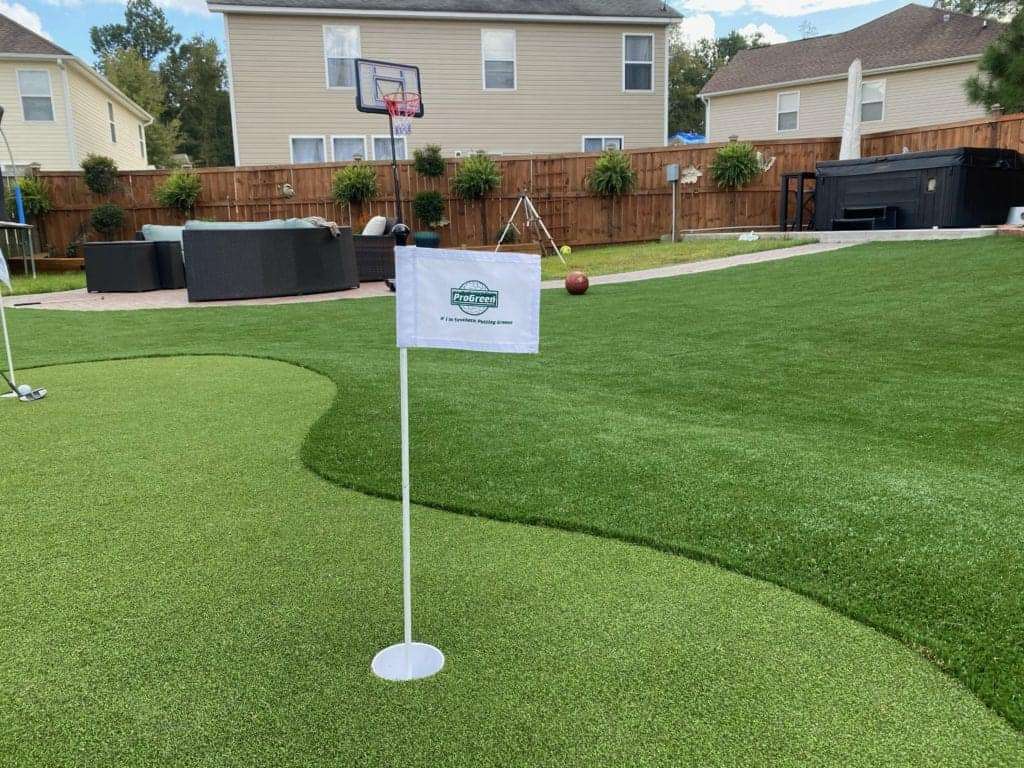 Benefits to Backyard Artificial Putting Greens
What better way to spend your day than practicing your golf game? Whether it is just for fun, or practicing for competitive reasons, backyard putting greens are a great addition to any yard. Here are just a few benefits to getting a putting green installed:
It gives you something to do outside while stuck at home.
A putting green is the perfect entertainment for gatherings (once those become more normal…).
If you are passionate about golf, it just makes sense to have a backyard putting green to practice on.
You'll start taking strokes off your golf game – get ready to "wow" your golf buddies with your short game.
For the golf enthusiast's partner: your beau won't have to go all the way to the golf course to scratch their golf-itch. More quality time for you, less money spent on course fees.
Increases the value of your property – not only do synthetic golf greens provide a fun activity, they also look beautiful and require minimal maintenance, which adds value to your property.
Building Custom Backyard Putting Greens
Each putting green design is unique. At ProGreen, we install sand-filled putting greens (PG 4000) and non-sand putting greens (PG Augusta).
A sand-filled putting green helps to give a true ball roll and a more realistic play. With a sand-filled green, you are always able to adjust the speed (stimp) of the green by adding or removing sand. This provides endless options to fit your specific play style. Our consultants will be able to make suggestions on what they think is the best layout and design for your space. If you are looking for a certain style of green, whether it has specific undulations, various cup locations, or even a sand bunker, we are here to make your dreams a reality.
Putting Green Installation
Properly pulling off the installation of backyard putting greens is something that takes years of experience and install mastery. Building an artificial putting green is not the same as installing artificial turf for a simple residential application. Ask any installer and they'll tell you that a putting green takes way more knowledge and effort to install. Being able to get the cuts right, the ball break perfect, and speed just where it is needed is something that can only be learned over time by a true professional. It is important to choose the right company with the right products for your green. The quality is in the details!
The Best Backyard Putting Green for You
ProGreen can make it feel as realistic as possible when it comes to play. We can build backyard putting greens that are flat or one with contours. It all depends on what you are looking for. The design and details will of course be different if you are just looking for a small simple green versus a professional golf green for practicing your competitive game. No matter your needs, our skilled installers can build a green that works best for you.
Contact Us
Whether you are a professional golfer or a fan of the game, we can get you a beautifully built backyard putting green! Schedule a free estimate for a backyard putting green installation.