Come Out and Play! Benefits of ProGreen's Optimum Play DF Turf for Playgrounds
Playgrounds provide a safe and secure environment for children to explore, learn, and play. That's why it is so important to choose the right materials for playground surfaces. There are numerous options when it comes to playground surfacing and it can be hard to determine what is the best. ProGreen's Optimum Play DF (Dual Fiber) artificial turf is an excellent choice for playgrounds, child care centers, parks, and more. It is durable, low maintenance and looks great in all recreational applications. Let's take a look at some of its many benefits.
Safety First
Optimum Play DF is one of the safest surfacing materials available for kids! It is lead-free and meets all fall height safety requirements of the ASTM. This turf not only features a durable dual fiber system, but also a shock absorbing pad beneath the turf to insure extra cushioning incase of a fall. This softness makes it much easier on little bodies than hard surfaces like concrete or asphalt. Also, common playground surfacing such as woodchips or sand can irritate eyes and noses if inhaled. However, with artificial turf, these risks are eliminated entirely. All ProGreen synthetic turf products are made with the highest safety standards in mind – the health of your family and community come first!
More Time For Play
Artificial turf eliminates the mud that comes with natural grass lawns. With the Optimum Play DF turf, there is no need to worry about dirt or mud on the surfaces that kids play on—which means they can spend more time outside playing without having to worry about tracking mud inside afterwards. With a safer surfacing option, parents and caretakers can spend less time kissing boo-boos and more time watching the little ones play! Lastly, its drainage system allows water to seep through quickly so there won't be puddles when it rains–perfect for those rainy day playtimes!
Beauty & Versatility
ProGreen artificial grass looks great all year round! Its realistic texture mimics natural grass perfectly while standing up to heavy foot traffic as well as wear-and-tear over time. You can even customize the color to match your facility's style! Other surfacing options such as poured rubber or woodchips need new layers added or replaced every so often. However, artificial turf will last for many years with little to no maintenance. Whether you are looking to spruce up an existing playground area or create an entirely new one from scratch – ProGreen synthetic turf can help you do it quickly and easily!

We know that keeping kids safe while they play is important—and that means having a safe playing surface that will stand the test of time. If you are looking for a safe playground surface that requires minimal maintenance and adds a touch of beauty – ProGreen Optimum Play turf is the best choice! Contact us today about adding this amazing turf product to your playground!
Learn more about our Optimum Play DF turf line here.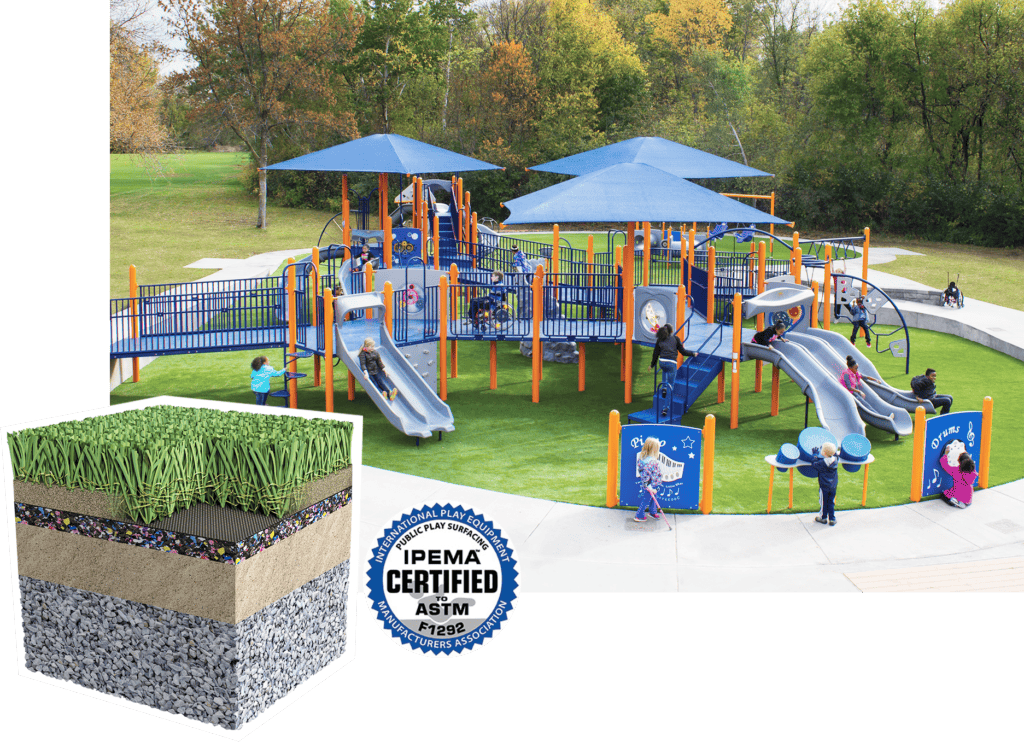 ---
Interested in learning more about how you can replace your play area with turf?
Let us know how our specialists can help you today!
---