Commercial Artificial Grass Installation = Four Key Benefits
Artificial turf installation is not just for residential applications! Many businesses and municipalities have transformed their properties with high-quality artificial grass. Read on for four reasons why you should consider commercial artificial grass installation for your business.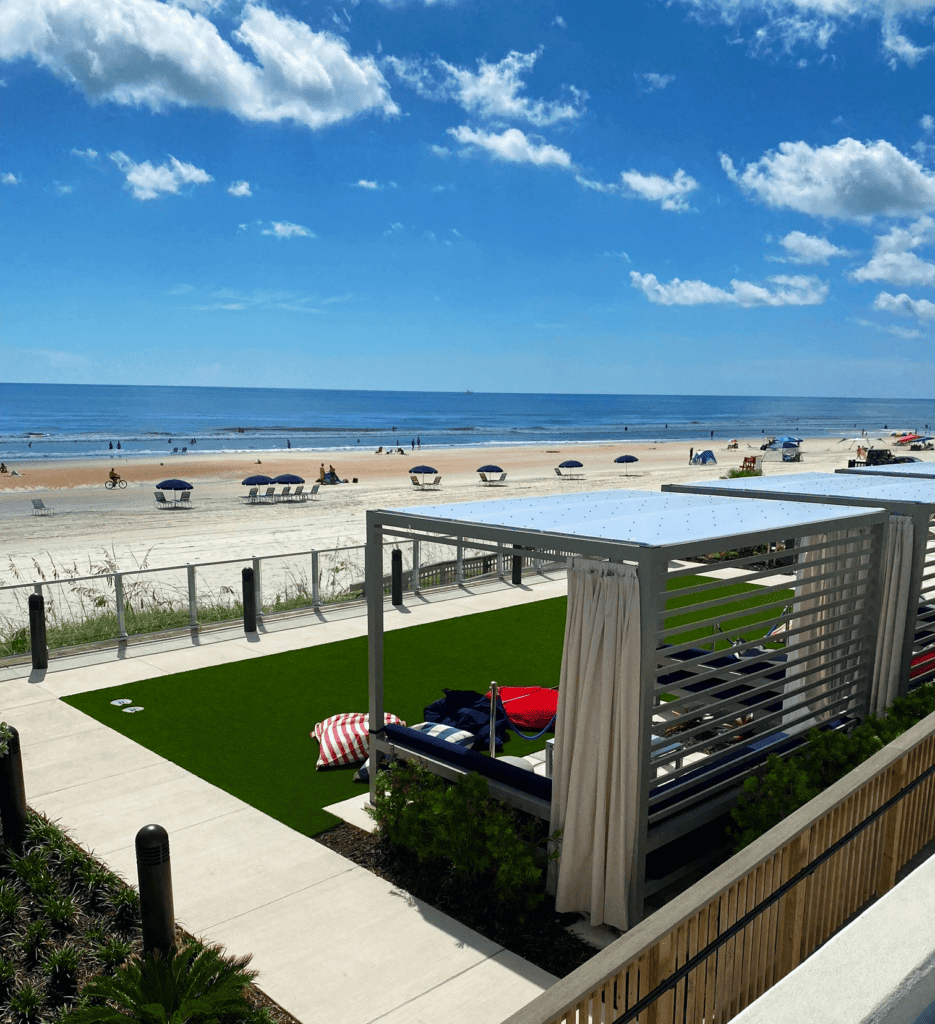 COMMERCIAL ARTIFICIAL GRASS INSTALLATION = ENHANCED BRAND SENTIMENT
When a business or commercial space looks nice, it will naturally bring in more traffic. A company's physical image is extremely important for it's overall brand and the customer experience. In fact, a 2019 survey of 3,000 consumers conducted by The Harris Poll and commissioned by RedPoint Global, found that, "84% of shoppers said that the physical environment was important to them when shopping."
You will want a green, beautiful space that will leave a positive impression in the mind of your customers. Having a dead, dirt lawn in front of your commercial space is not going to provide a good first impression. Especially if the area is going to be in direct sight of your customers.
LESS MAINTENANCE AND COSTS
You can cut costs by not having to hire a landscaper or an employee to maintain the grounds because artificial grass requires very little maintenance. Additionally, you will save time and money on cleaning tasks that result from general landscaping. Many car dealerships with artificial grass will no longer have to worry about grass clippings getting on their new cars. You also won't have to worry about dead grass or mud being brought into your business. Tracking in grass or debris can cause an unsightly mess for your customers.
PERFECT FOR INDOOR SPACES
The great thing about artificial turf is that it does not have to be limited to just outdoors since it doesn't require water. A popular indoor commercial use for artificial turf is at gyms or indoor playgrounds. A lot of gyms have added an artificial turf area so that their members have a place to do workouts and stretches that do not require any machines. Turf is great for these applications because it is soft and shock absorbing, making it safer for activity. Our IPEMA certified artificial grass products are specifically designed for playgrounds. Even if the turf isn't used in athletic / play applications, it still makes indoor areas look fantastic. Plenty of daycares have reached out to get artificial grass for their indoor play areas!
COMMERCIAL ARTIFICIAL GRASS INSTALLATION FOR CHILDREN AND PETS
One of the main benefits to artificial grass is how soft and inviting it is. This is great for pets and children! Commercial artificial grass installation at your business creates a space that will be child and pet friendly. Large concrete spaces or even natural grass spaces on the business property can turn unsightly, dirty, and even dangerous. Would you rather your kids play on a soft artificial grass, or hot concrete? How about artificial grass or a muddy/dirty grassy space? Artificial grass is the ultimate child and pet friendly surface because it's soft, safe, and clean.
CONTACT PROGREEN
No matter what your business is or what your space looks like, commercial artificial grass installation is a fantastic investment. Contact us today for a free estimate for installation!