Artificial Turf for Dog Daycare Facilities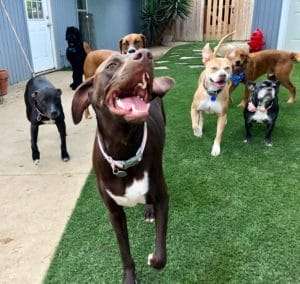 It's common knowledge that artificial grass and pets, specifically dogs, are a perfect match. We have covered the many benefits of artificial grass for dogs countless times on this website and the blog. One thing we have not covered is how artificial turf for dog daycare facilities can actually increase revenue.
Is artificial turf easier to maintain? Yes. Will it help reduce maintenance costs? Of course. Will the dogs love it? Absolutely. But, how do any of these benefits equate to increased business? There are many advantages of artificial turf for dog daycare facilities that the average person would not consider. Luckily, we stumbled upon a very interesting article from the owner of a South Florida facility who shared just how artificial grass grew his business by 250%.
Improve Curb Appeal
Immune to the changes of the seasons and unaffected by variances in rainfall, artificial grass stays green and beautiful all year long. Prospects and customers will always be greeted by an inviting, eye-catching play area that will draw attention for all the right reasons.
Reduce Mud and Dust
Natural grass means mud, which means a lot of problems. Not only do the animals get dirty, but so do the employees and the facility. Plus, dogs love to dig in the mud. To prevent exposure to mud, animals are usually confined indoors for hours or days after a storm. Pet owners will flock to a facility that can give their dogs more outside play time where mud is not a factor.
Eliminate Risk of Ticks and Fleas
Natural grass itself can cause many problems for pets. For starters, grass is where ticks and fleas thrive. As John says, "If your facility gives a client's dog fleas, you can bet they probably won't be back". In addition, some dogs have an allergic sensitivity to grass that causes redness and irritation. Synthetic turf is hypoallergenic for everyone, meaning all of the guests at your facility will be able to enjoy outdoor time.
Best Artificial Turf for Pet Boarding Facilities
We have two exceptional products specifically designed for dogs, including our new K9 Champion, which was featured in one of Zak George's dog training videos.
ProGreen pet products have been installed in dog boarding facilities across the country, including Camp Bow Wow, The Doggie Chalet, Zen Dog and many more.