Artificial Turf Lawn: Key Benefits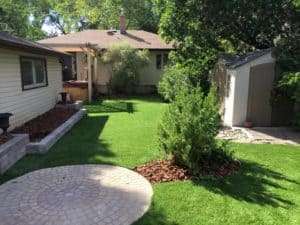 Nothing makes us happier than when a homeowner decides to install a new artificial turf lawn. We are thrilled every time a homeowner has an epiphany and fully understands the many ways artificial turf can bring convenience and peace to their lives. Mac Lane, a resident in High Point, NC, recently had such an experience. Mr. Lane chronicled his experience in an articled titled The Allure of an Artificial Turf Lawn. Here he describes how frustrating it is, year after year, to have his grass overtaken by weeds and crabgrass. No matter how hard we works and the different measures he has taken, there has been absolutely nothing that has alleviated the annual return of crabgrass. The hours of labor and aggravation that have consumed him over the years is astronomical. Not to mention, the financial costs that have accrued.
It was when he passed a furniture store that had a pristine lawn adorning the front entrance when Mac Lane realized an artificial lawn might be the answer to his problems. The grass in front of the store looked so immaculate that it caused him to stop.
With a simple call to ProGreen, you, too, could have a lawn that stops onlookers in their tracks. The best part is that you will not be spending countless hours maintaining and trying to repair your lawn. With an artificial turf lawn you won't need to labor away to keep appearance. If you find yourself like Mac and are tired of fighting your lawn year after year, contact ProGreen.