Artificial Turf Putting Green | Top 5 Things to Consider
Are you considering upgrading your backyard with a new artificial turf putting green? If so then the ProGreen team has some tips for you to read through before selecting which type of putting green is going to be best for you. We're going to share with you what to look at when you're designing your putting green layout. Additionally, we will tell you why different types of artificial turf might be a better selection for your project.
There are many different types of turf and different layouts for an artificial turf putting green so we want to assist you in the top five items to look at before making the investment in your project.
1. Selecting the Size of Your Artificial Turf Putting Green
You first need to determine how much area you want to utilize for this project. In general there are two main cost drivers when installing artificial turf and that is size and turf type. Typically when you're installing a turf putting green, you're going to be in the higher portion of the price range. Mainly because artificial turf putting greens require more labor and skill when they're being installed.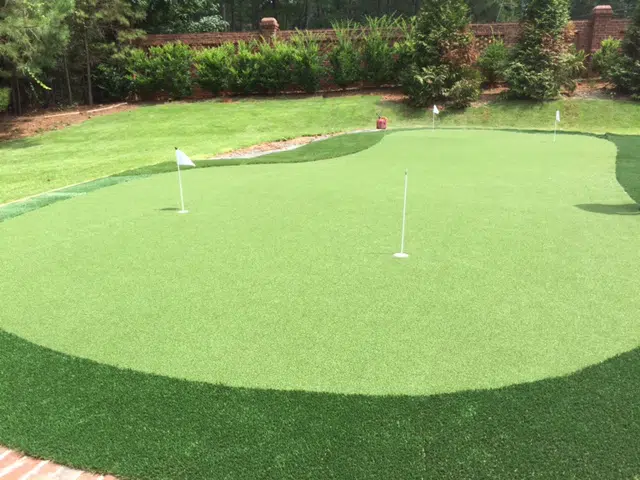 The entire size of the project is going to be up to you. However, if you're looking to install a more "budget friendly" backyard putting green, then reducing the overall size of your project will help you lower your cost. You can go ahead and use some eco-friendly yard paint or string to layout the area you are considering for your project. You can purchase some of this yard spray paint quickly on Amazon or at your local hardware store.
2. Select Your Layout
When you're selecting the layout for your artificial turf putting green, its not just where the cups are going to go. There is a lot more to it than just hole placement on the green. Now that you know the square footage of your putting green you need to determine how much of that total area will be for putting versus how much fringe you want to include. Its a very popular option with customers to surround the putting green turf with some of your taller artificial turf so that you can have some areas to chip from. This taller artificial turf allows you to practice some chipping and flop shots. We also offer different colors of turf to mimic the look of white sand bunkers surrounding your putting area.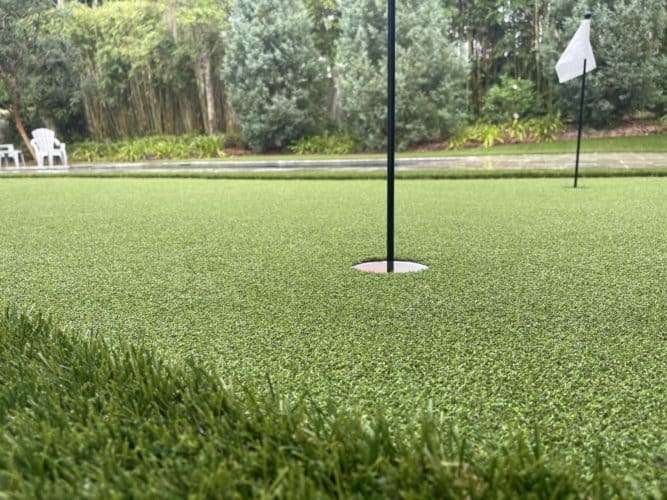 You'll also want to determine how much undulation or "break" your putting green will have in it. When you're working with a seasoned installation team you can select the underlying slope and break areas on your putting surface. Typically a lot of customer's will choose a freeform shape for the putting area but there is the option of keeping the sections straight in order to run parallel to a striaght deck or patio run.
3. Putting Green Usage
When determining the usage of your new artificial turf putting green, you need to answer some questions. For example, are you going to be hosting your golf friends for a chipping competition? Or is this going to be a fun area for the family to just play around on? How many pets do you have at your house and how much foot traffic will your new backyard receive?
[metaslider id=10657 cssclass=""]
When answering these questions you'll better understand what type of artificial turf you'll need to select for your backyard putting green. When selecting your artificial turf its important to read about the differences between each type. You can read more about the different types of putting green turf here.
4. Level of Maintenance Required for Putting Green
You also need to understand if there is any maintenance required on your part when installing a new artificial turf putting green. The majority of artificial putting greens are installed outdoors so they're exposed to the elements year round. Sometimes the sand infill can move around in the artificial turf and you'll need to rework the sand back into the turf.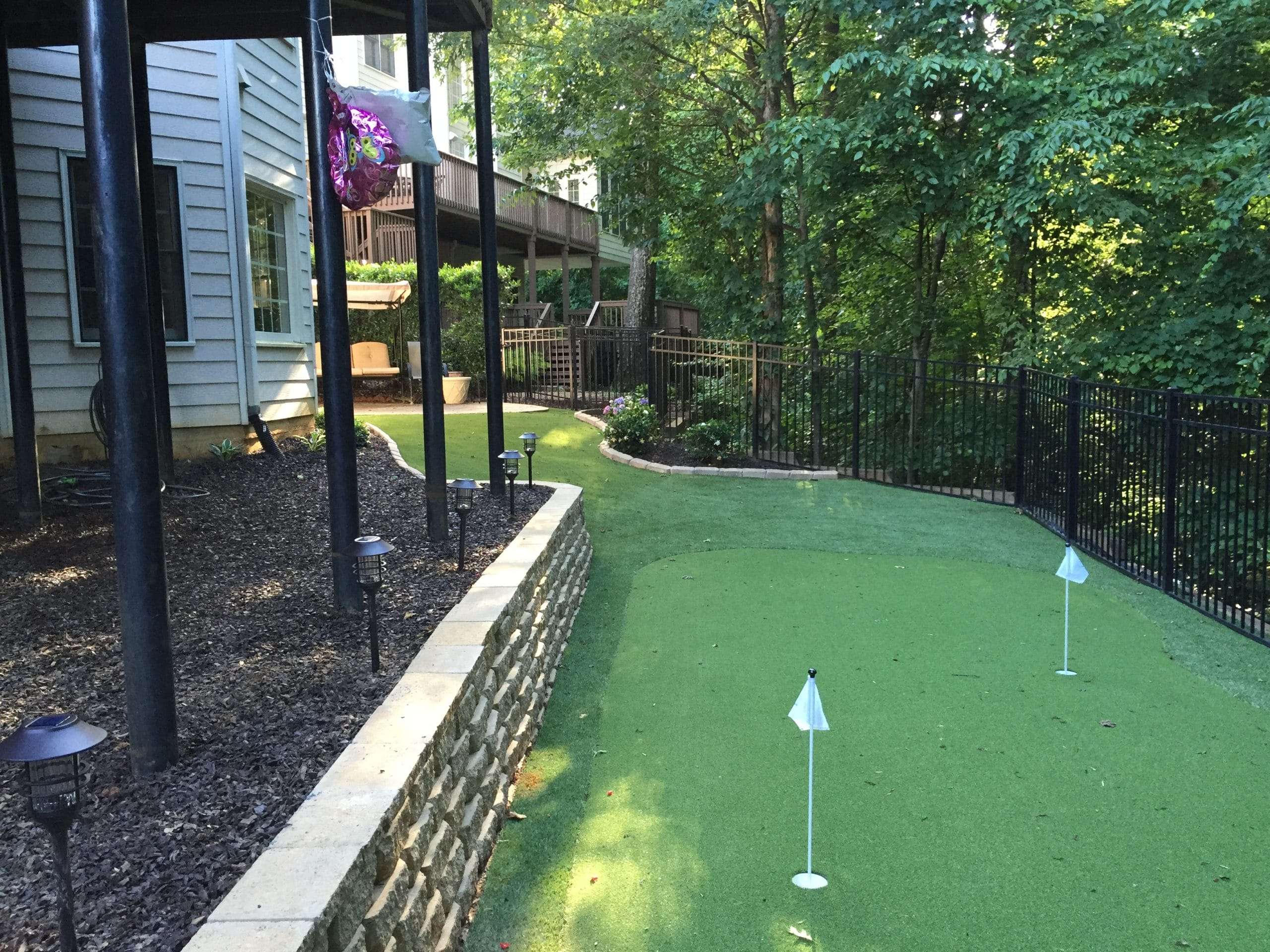 The ProGreen team also offers a "broom and groom" service which you can schedule as many times as you'd like where our team adds more sand and works it into your artificial turf. Typically you only need to do this once or twice a year depending on the climate of your region. The "sand-filled" putting greens do require a little more care and attention however, they provide great performance and ball response. ProGreen also created a maintenance guide that you can access at any time.
ProGreen Sand Filled Putting Green Maintenance Guide
5. Care Tips for Artificial Turf
Whether you're installing an artificial turf putting green, pet turf, or landscaping here is a quick list of things to do that will help prolong the lifespan of your new backyard.
Do not drive vehicles or heavy equipment over the putting green or turf areas
Get an electric or gas blower and remove debris as much as you can
Clean up any pet waste quickly and give the area a quick rinse
Do not pressure wash the artificial turf – you can use a standard PSI garden hose for spot cleaning
Avoid shooting off fireworks, grilling, or smoking around the synthetic turf areas
Use only plastic or soft brushes to "groom" your turf
Would like to speak with one of our artificial turf putting green experts? You can find a dealer on our dealer page HERE.
ProGreen Customer Testimonial
If you'd like to see some of our work first hand watch this quick video from a real ProGreen customer who recently installed a backyard putting green at their home. Contact ProGreen today for a free estimate for a putting green installation!