SAND FILLED PUTTING GREEN MAINTENANCE GUIDE
If you recently had a sand filled putting green installed, congratulations on the big-time yard upgrade! If you're reading this as more of a preventative measure before investing in a green, then thank you for stopping by. We are here to help you understand how to properly maintenance a sand filled artificial putting green.
STANDARD ARTIFICIAL GRASS MAINTENANCE
Overall, following these simple suggestions will ensure your turf always looks and performs its best for years to come. We recommend these activities for all types of turf in addition to putting greens.
Keep your surface free of litter, mud, and debris
Prohibit smoking, fireworks, and heated or hot objects near turf
Repair minor damage promptly
Follow suggested maintenance and cleaning procedures
Avoid placing heavy equipment or vehicles on turf
Promptly clean up any pet waste and rinse area thoroughly
Do not use wire brushes, sharp objects or high-pressure sprays exceeding 1,000psi
SAND FILLED PUTTING GREEN MAINTENANCE
A sand filled putting green requires a little extra care and attention to maintain a smooth putting surface, maximum performance, and ball response. To keep your putting green in the best shape possible, we recommend the following:
1) Keep pets off the putting green surface.
Yes, we know pets will "go" wherever they please. However, if you can keep your pets off the putting green surface, it will greatly help the green's look and smell. The surface of a putting green is not made for pets. The putting surface will not last and drain the same way a pet friendly artificial turf will. If your pet does happen to use the putting green surface for restroom purposes, we would highly recommend picking up any pet waste immediately. Then quickly wash down the area with a garden hose.


2) Maintain the speed of the green.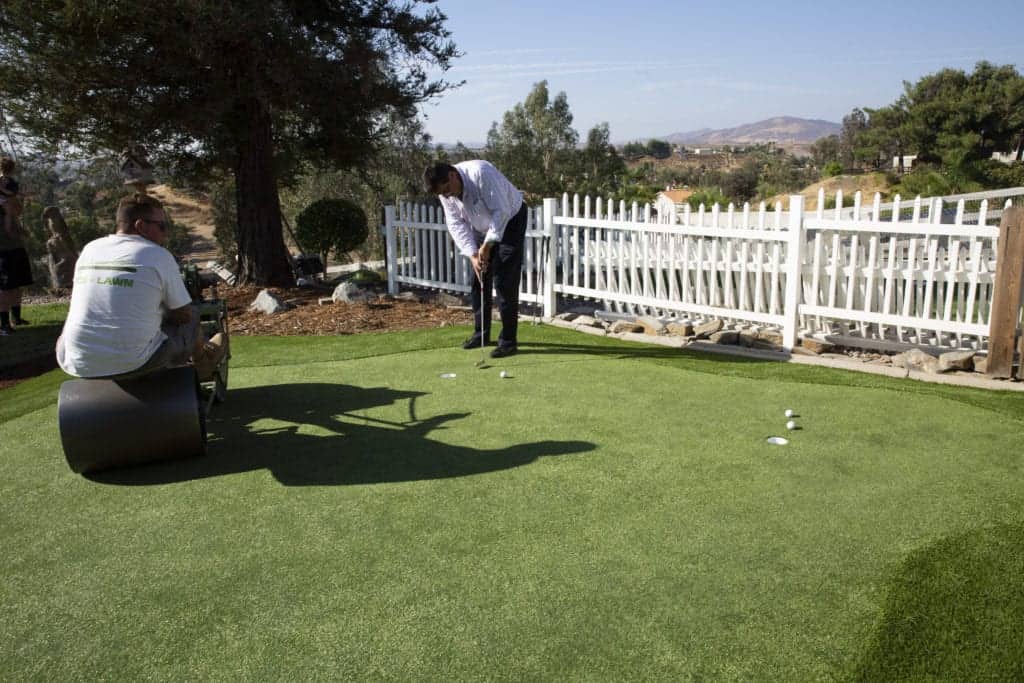 If you can make the investment, we would suggest purchasing a turf roller. Rolling out the putting green surface when needed will help adjust the speed of the green. If you notice a change in the speed of the ball roll, simply roll out the green on a sunny day to speed it back up. You can also ddd sand to the green before rolling it. You can add additional sand if you see any new bare spots. There are a couple different types of rollers you can purchase:
Combination Hand Roller – a push/tow combination hand roller is a great, affordable option for a small to medium sized sand filled putting green. The push or tow-behind design allows for rolling in tight areas.
Ride-On Roller – a ride-on roller is an investment for someone that has a larger putting green and will want to maintenance their putting green often. A ride-on roller helps roll an area much faster than a hand roller and does a much more efficient job.
If you are not wanting to make the investment or take the time to get your own roller, no fear, you can contact us for annual or biannual putting green maintenance. Our warranty does not cover this service.
3) Brush the fringe with a push broom.
For the fringe of the sand filled putting green, it is a good idea to use a soft-bristle push broom to level out the sand. This will help to keep the turf's resilience. If there is a heavy rainfall, going out with a soft-bristle push broom to brush the turf will level out the sand. By doing this properly you can clean off any debris left behind on the turf. Grooming your turf is a very important step to keeping your artificial putting green looking its best!
MINOR REPAIRS
Your new backyard putting green has been engineered to provide many years of service. This also includes the installation materials and methods used during the installation. It is important to repair any minor damage immediately because a small problem could possibly grow into a major repair. Once or twice a year, your surface should be given a careful and thorough inspection. ProGreen also offers turf maintenance programs annual or biannually. These services include inspection your turf, clean debris from it, top off the infill, and power broom as necessary.
CONTACT US
Here is a real ProGreen Customer Testimonial from one of our clients who installed a backyard putting green at their home. If you have a sand-filled putting green, or if you are looking to install one, it is important to know all the maintenance involved with having one. Contact us today for a free estimate for a putting green installation!