Backyard Landscaping Ideas: 6 Ways to Update Your Backyard
Here are six backyard landscaping ideas that you can complete that will drastically improve the look and feel of your home. During the past two years homeowners across the country have had to re-connect with their backyard in a major way. When the COVID crisis hit families needed areas where they could relax and where their children could play. We have had to utilize the space in new and different ways. ProGreen wants to share some amazing suggestions that can help you view your yard in a whole new way.
We realize that budget can be a major factor when upgrading your home and some of the ideas we have might be out of your price range. However, fear not! We are also going to share some budget "friendly" upgrades with you too!
1) Simple Install of a Fire Pit
First off is one of the most budget friendly backyard landscaping ideas our team has to share. With the simple addition of a backyard fire pit your family can keep warm during the upcoming cooler months. We recommend you search around for a good design for your firepit, because there are a lot of free construction plans online. Shown below are three great examples of simple firepit installations.
In addition to the firepit you can also add some Adirondack chairs and a river rock base around the firepit. We've found a few great options for Adirondack chairs online. Additionally, you can also run some café style string lights above the firepit area that you're designing. Always make sure to keep the lighting well above the fire burning area.
For the firepit itself you can find several great DIY kits online or at Lowe's or Home Depot. Adding a backyard firepit is a quick way to immediately increase the warmth and coziness of your landscape.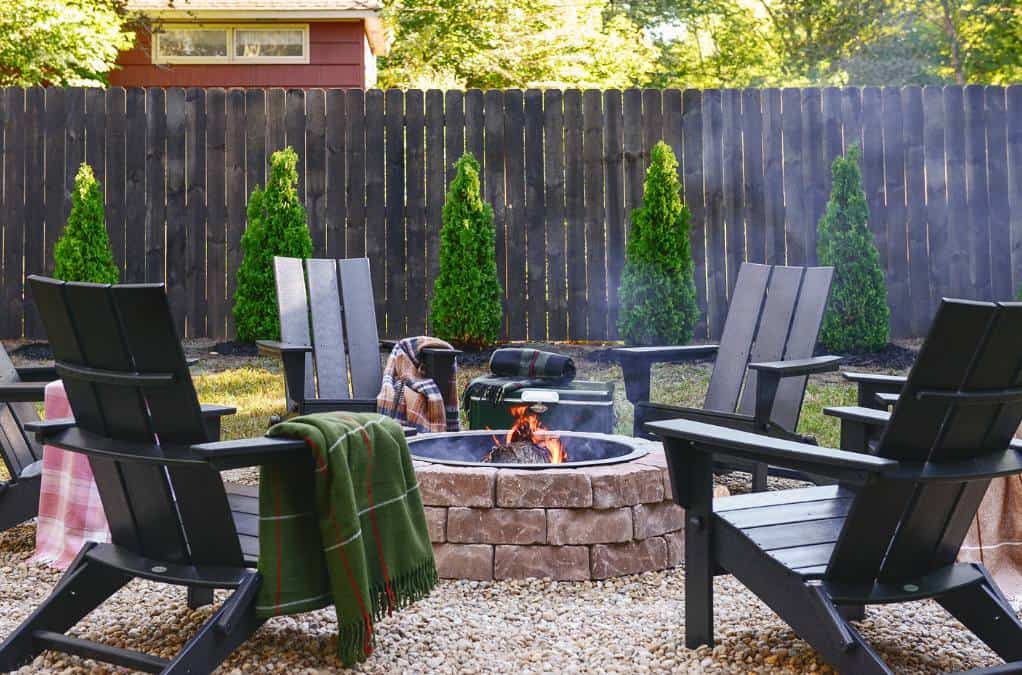 2) Construct a [Concrete] Patio or Deck
When you're considering different types of landscaping ideas, installing a patio or deck can really transform your yard. There are a multitude of options to consider when installing a patio or deck. If you go with a professional installation of a patio we've outlined the approximate cost per square foot below.

– Concrete Patio Cost = $3-$15 per sqft.
– Wood Deck Cost = $30-$60 per sqft.
– Tyvek Composite Cost = $30-$60 per sqft.
– Paver Patio Cost = $8-$25 per sqft.
If you are more of a DIY'er there are some very simple paver layouts that you can install yourself. You can browse different paver options at your local home improvement store. Additionally, most home improvement stores will deliver the pavers directly to your home. If you're looking to start your own DIY patio or deck project follow this link for a simple guide.
Another budget friendly option would be installing a pea gravel base patio. Here is an example of a simple pea gravel patio installation.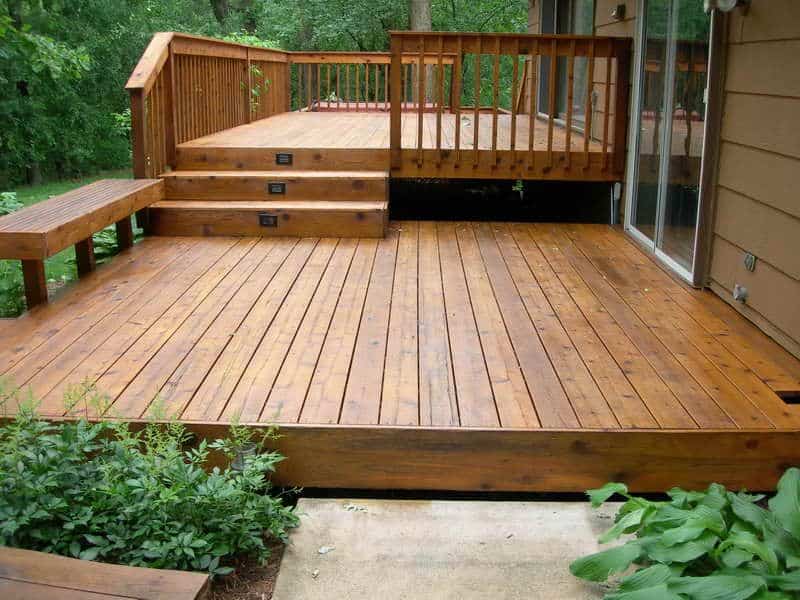 3) Build a Pool or Spa
There are three main options for installing a pool in your backyard. Typically most pool builders will offer a concrete, vinyl liner, or fiberglass option to customers. Depending on what type of pool you choose to install will be the ultimate factor on how much the project will cost you. The approximate cost of installing a pool can range from $10,000 to over $100,000.
Cost Tiers for Pools:
– Concrete "Gunite" Pool = Most Expensive
– Vinyl Lined Pool = Middle Tier
– Fiber Glass Pool = Lowest Cost Option
Once you've decided on what type of pool structure you want, you then have to decide on what type of deck to install around your pool area. Here are some great examples of customers who have installed turf around a pool area. Not only do you get a lush green look which provides amazing contrast, but you also don't have to worry about grass clippings getting blown into your new pool.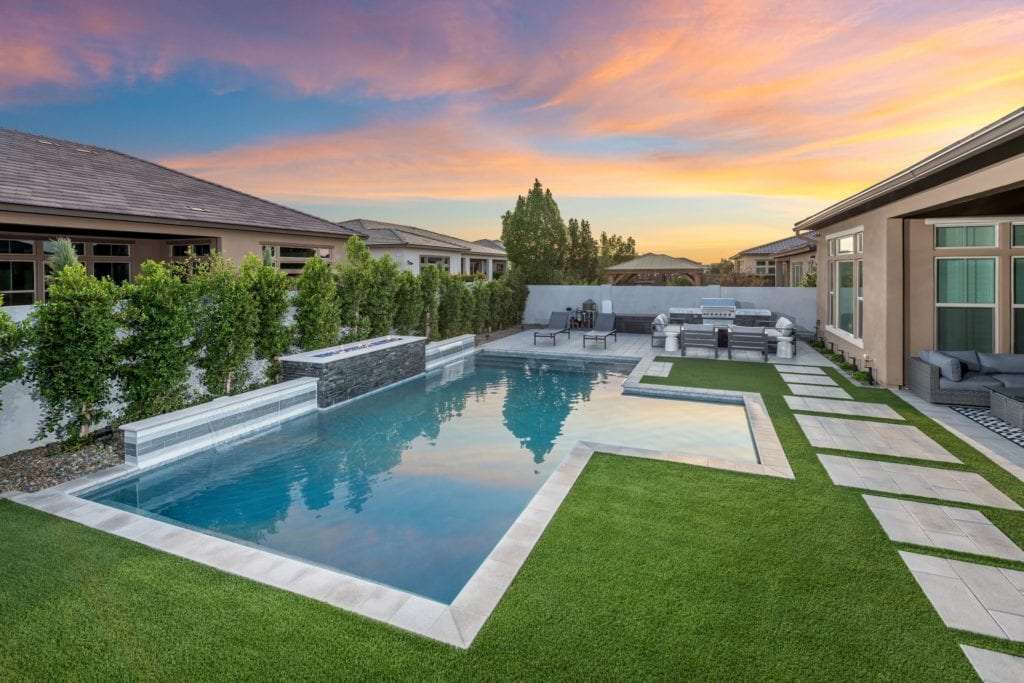 4) Backyard Kitchen and Entertainment Center
Become the envy of your neighborhood by upgrading your backyard with a full outdoor kitchen or entertainment area. While this can be a costly upgrade, it is well worth the investment! An outdoor kitchen will significantly increase the value of your home, lower your energy bills, extend your living and dining space, make entertaining a breeze, and keep all food smells outside! Depending on your design choices, upgrades, and any additional bells and whistles, your kitchen could range anywhere from $1,000 to $100,000! However, the average price for an outdoor kitchen is $13,000.
Choosing what you will need for your kitchen can be overwhelming! Below is what we think are the essentials for your outdoor kitchen:
A gas or charcoal grill
Countertops for storage and prepping
A sink for easy clean-up
Built-in trash can
A refrigerator for food and drinks
A covering to protect from weather and make the space comfortable
Follow this link for more information on cost breakdown to make the most of your budget.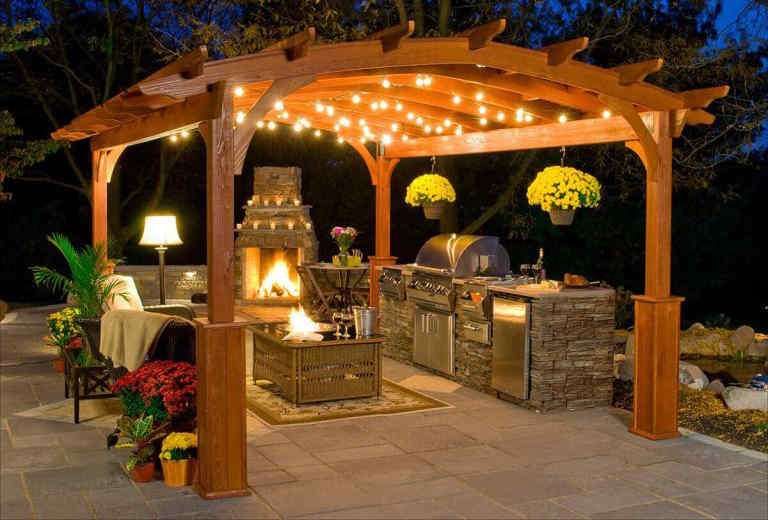 5) Backyard Artificial Turf or Backyard Putting Green
Enjoy a year-round lush, green backyard by installing artificial turf. By installing fake grass in your yard, you can look forward to never mowing your lawn again. In terms of versatility, synthetic turf can bring to life any vision you have for your space. Depending on who will be the primary users of your backyard, you can typically select your turf from three main categories (pet turf, putting greens, or landscaping). Here are the key features of each type of artificial turf.
Pet Turf = tpyically the shortest pile height and the most durable turf option. Meant to be easy to clean and drain extemely well.
Putting Green Turf = has the shortest pile height of all the different styles of turf. For most backyard putting greens you're going to see a higher install cost compared to pet or landscaping becuase of the addtional labor required to work the infill into the turf.
Landscaping Turf = this turf style will likely have the most color and pile height options. You can find a multitude of quality landscaping turf colors based on the look you want your backyard to have.
Make sure that when you're selecting your turf for your backyard landscaping project, that you compare apples to apples. A lot of turf companies will claim to be "American Made" but actually source their materials from over-seas at a very low cost, thus sacrificing quality. When it comes to making the investment in quality turf its always important to read reviews about the company. It helps to also work with a turf installation company that makes and manufactures the turf themselves.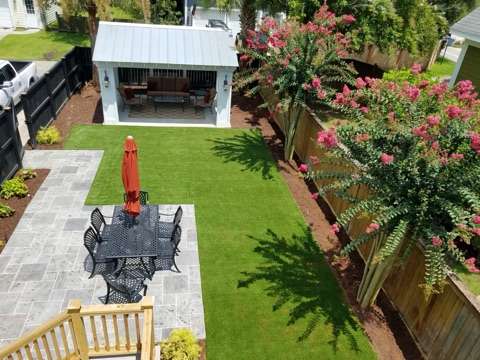 6) Install an Artificial Ivy Accent Wall
A new landscaping trend picking up popularity is the installation of artificial ivy. Many home and business owners have been installing beautiful works of art in their yards. There are so many different options when it comes to the ivy you can source for your project. Typically the artificial ivy will come in panels that you can secure to a wall with screws, zip ties, or various adhesives.
When it comes to selecting a quality artificial ivy product, QUALITY MATTERS! It is very important to consider the quality of your ivy. See if you can find some reviews about the ivy from other online buyers. Make sure that the ivy can stand up to the elements in your geographic location. Poor quality ivy can sometimes only last 1-3 years. While quality ivy installed properly can last upwards of 8-10 years.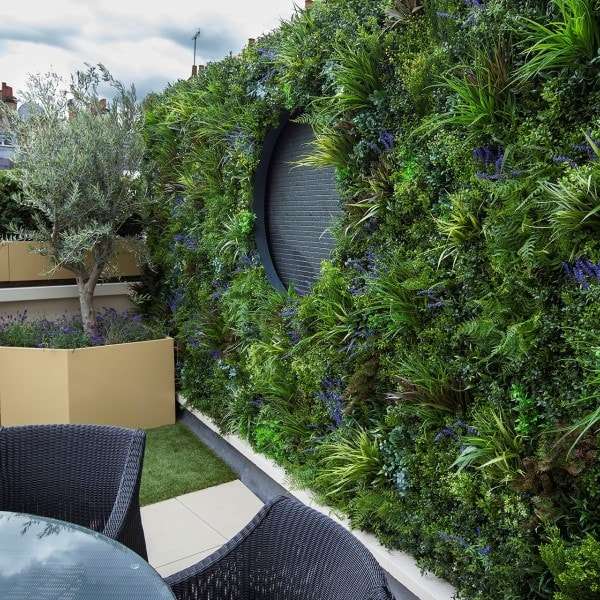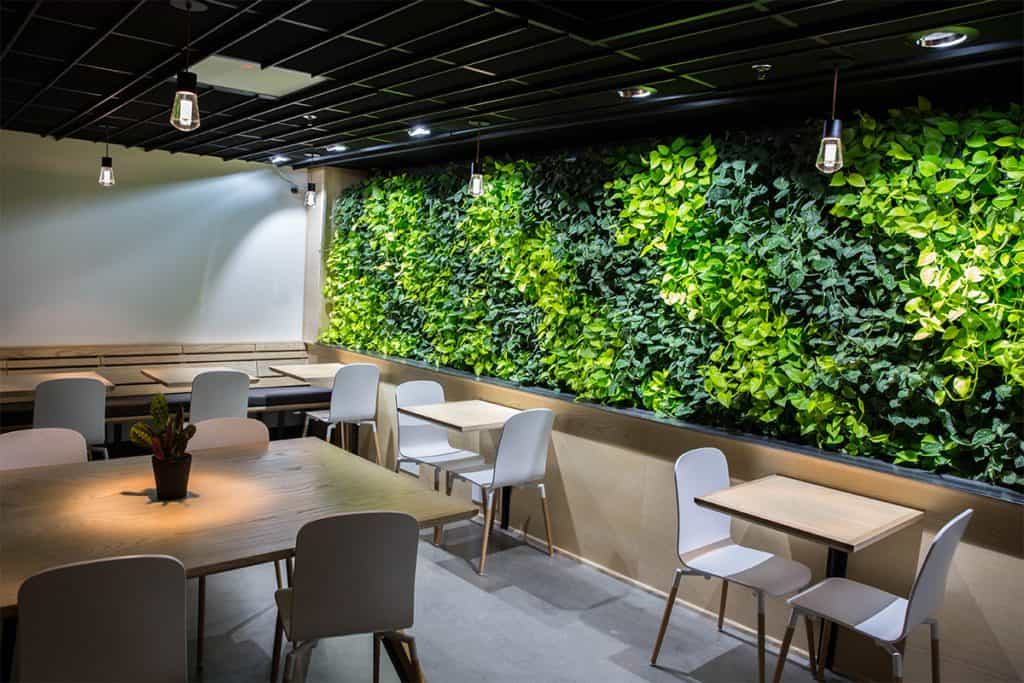 For business owners its been amazing to see what a quality ivy wall can do for your advertising efforts too. By having a quality accent wall it can become a focal point for your customers and can transform your landscape project into a marketing tool for social media.
We hope that you were able to pick up on some great backyard landscaping ideas. Continue reading some of our upcoming blog posts to learn about more projects you can complete to help improve the look and feel of your property.