Pet Friendly Turf | Top 4 Pet Turf Options
Looking for the best way to improve your backyard before Spring? By adding pet friendly turf to your backyard you can immediately add value to your home. As well as provide your furry friends with a safe and comfortable new living/play space. But how do you know which pet friendly artificial turf product is going to be the best option for your home? There are so many different types of dog turf on the market and it can sometimes be overwhelming to compare all of your choices. The good news is that our team of turf experts is here to share the top four pet turf options for homeowners.
No matter which artificial dog turf option you select you will be pleased to know that all of our turf products are pet & kid safe. ProGreen offers manufacturer direct turf, that is made right here in America. This allows us to provide you with the highest level of quality control when making your synthetic turf. You can read more about the different tests and certifications that ProGreen has obtained here.
ProFlow Backing
Just like with real grass you will likely need to pick up your pets droppings. One of the best features of our artificial turf is that we offer our patented ProFlow backing on all of our products. Our ProFlow backing makes it easy to spray off the turf with water and then allows the remaining debris to flow down and away from the turf's surface.
Benefits of Installing Pet Friendly Turf
In this post we are going to share with you the top components to compare when making your selection on which dog turf to install. One of the biggest factors to consider is how many pets you have. Next you'll want to determine how often your pets will use the new turf area at your home. All of ProGreen's pet friendly turf options are 100% American Made. Our pet turf products can also withstand a high volume of pet traffic. One of the biggest benefits of installing fake grass in your home will be the elimination of muddy paws tracking dirt into your home. Shown below are the best dog friendly turf options that are available right now.
Types of Turf for Dogs:
1) Canine Champion
Color = Field & Olive Green | Thatch = Green + Beige
Face Weight = 65 ounces
Height = 1.25″
K9 Champion is our top selling pet friendly turf. The height of the turf blades are 1.25″ which provides a "medium" height for your pets. Typically you will see turf heights range from 1.15″ up to 1.5" in height. This shorter height ensures that the turf will stand upright. The K9 Champion turf is a field green and olive color which provides a very natural grass look. The thatch that helps the blades stand upright is a blend of green and beige.
All of ProGreen's pet friendly artificial turf options can provide you with a great return on your investment. However, the K9 Champion product has been one of our best sellers. Primarily because of its height and color combination.
---
2) Deluxe K9
Color = Field Green | Thatch = Field Green + Beige
Face Weight = 55 ounces
Height = 1.125″
Next on the list is our Canine Deluxe Dog Turf. This particular product is a little bit shorter than the K9 Champion shown above. This option is very popular because it has a shorter blade height. Which means the green turf fibers stand up straight, even with extreme pet traffic. This option is very popular with commercial dog facilities like groomers, doggie daycares, and pet training facilities.
The K9 deluxe turf is one of the top sellers if you're looking to get the most durable product in the pet friendly turf line.
---
3) Canine Terra
Color = Field Green + Olive | Thatch = Brown + Beige
Face Weight = 55 ounces
Height = 1.125″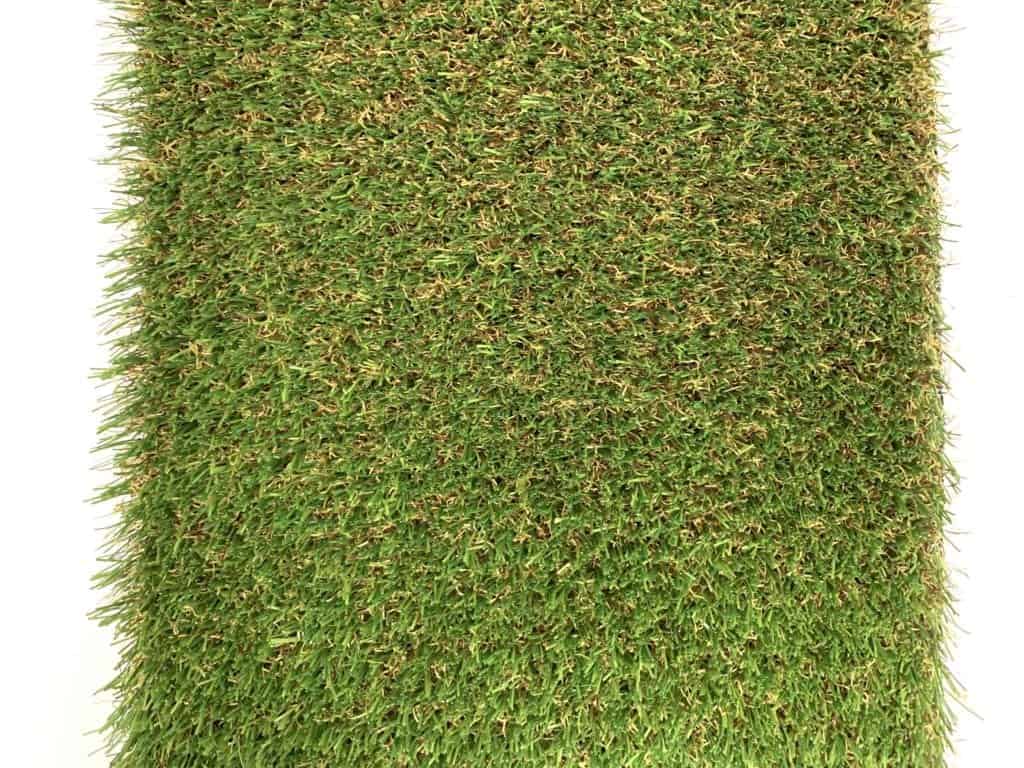 This pet turf option also comes with a shorter height of 1.125″ Making it a very easy to maintain. You can see the main difference in this product is the thatch color. The thatch is a blend of brown and beige which mimics the "dead" layers of grass you typically see beneath the green real grass blades. This option is very popular with customers who are searching for a very authentic fake grass product.
Again a major benefit of this product is you can pick up your pet's droppings very easily and quickly clean off the area. As with all of our turf products, K9 Terra comes with our patented ProFlow easy draining backing.
---
4) Rugged K9
Color = Field Green + Olive | Thatch = Green and Beige
Face Weight = 50 ounces
Height 1.5″
Finally on the list is our Rugged K9 Pet Turf Option. Even though this turf is in our pet friendly turf product line we have a lot of customers who will use this at playgrounds or schools. The durability and ProFlow backing of this product provide a very low maintenance fake grass option for your home.
Installing Pet Friendly Artificial Turf
As you can see, ProGreen offers a wide selection of pet friendly turf products for your home. You also have a couple of different options when it comes to the installation of your new fake grass. ProGreen has an extensive network of dealers around the United States. Any one of these dealers can provide you with a customer installation quote, backed with a warranty. When you decide to schedule a free quote with ProGreen you'll be presented with a turnkey installation cost. This cost is broken down by square foot. Our turf experts will also bring a few different sample sections of turf so that you can experience the look and touch for yourself.
Additionally, you can order the turf yourself and have it shipped to your home. ProGreen has also put together a video outlining the steps on how to install artificial turf. Depending on the size of the area you're looking to upgrade this could be a more budget-able option for you.
Whichever ProGreen Turf product that you select, we know that your pet will love it. Don't just take our word for it. Click on the video to hear from a real ProGreen Pet Turf Customer…
List of Preferred Installers
ProGreen of Charleston – Charleston, SC
ProGreen of Central Fla. – Greater Orlando, FL
ProGreen of Denver – Denver, CO
ProLawn Turf – Temecula | Southern CA