ProGreen Installs Putting Green at North Charleston Homewood Suites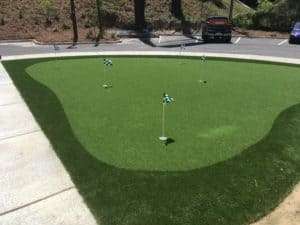 Curb appeal and first impressions are vital to any hotel or hospitality building. If customers are not feeling welcome and at ease when approaching the establishment, chances are they are going to drive right by. So, what do you do when your hotel has a small, unsightly area of dead space surrounding it? A brown patch is not very inviting; so, make like the North Charleston Homewood Suites and turn it into a captivating feature like a putting green. Anyone can turn an area of dead space into shrubs or concrete, but this Homewood Suites really made the most out of it by transforming it into usable space. With the help of ProGreen, Homewood Suites has created an eye-catching recreational outlet that their guests will enjoy.
The Homewood Suites situated directly off I-26 in North Charleston contracted ProGreen to install a small putting green in the corner of the property. Just because it is small does not mean it doesn't make a big impact. The putting green turf has a beautiful fringe, creating two contrasting shades of green. With five holes, it will be able to accommodate multiple guests simultaneously. There is no question that this putting green is an added feature that helps this hotel stand out among the rest in the area.
We could not be more proud of this project. ProGreen is headquartered in Charleston, and it is our mission to install quality, American made artificial grass throughout the city. Whether a putting green, playground, beach house landscape or dog kennel, ProGreen has got you covered. Contact us today for a complimentary estimate.