ProGreen Turf is the Perfect Addition to this Modern Cat Condo
Every year, AIA Dallas and TEXO host a dog house and cat condo design competition called Dallas Bark + Build. Some of Dallas' top designers and architect firms submit sleek and modern dog house or cat condo designs to be judged in a variety of different categories. For the 2018 event, ProGreen was delighted to contribute a piece of Natural Real Supreme as a wonderful addition to the cat condo designed by 5G Studio Collaborative.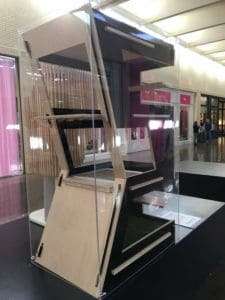 The 5G Studio Collaborative cat condo design features four different levels for a feline to enjoy. Some of these perches are enclosed for added privacy. The bottom is lined with ProGreen's incredibly soft and lush Natural Real Supreme artificial grass, creating a comfortable surface for a cat nap. The structure has unique angles and geometric shapes that any curious cat would love to explore. While it was not the overall 2018 competition winner, no one could argue that it is a spectacular design and structure.
The 2018 competition had a plethora of fantastic entries submitted for all categories. These are some of the most innovative dog houses and cat condos that you will ever see, definitely worth the time to peruse. You can see all of the entrants and the winners on the Dallas Bark + Build website. Maybe some of them will give you the inspiration you need to design your own dog kennel, cat condo or catio. Just don't forget the ProGreen artificial grass for your projects. Your pets will love it!