Turf Cat Condo Design by ProGreen
Every year, AIA Dallas and TEXO host a dog house and cat condo design competition. The Dallas Bark + Build is one of the most fun events of the year. Some of Dallas' top designers and architect firms submit sleek and modern dog house or cat condo designs for the competition. Including best turf cat condo. There are also a multitude of other submission categories. For the 2018 event, ProGreen was delighted to contribute a piece of Natural Real Supreme pet turf. This specific type of pet turf provides an amazing addition to the turf cat condo. The primary design and construction is overseen by 5G Studio Collaborative Studios.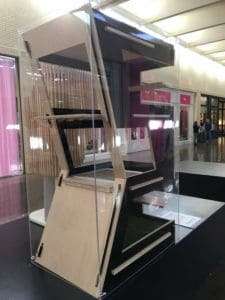 The 5G Studio Collaborative cat condo design features four different levels for a feline to enjoy. The glass enclosures around the perches provides additional privacy. The bottom is area contains ProGreen's incredibly soft and lush Natural pet turf. This specific type of pet turf creates a comfortable surface for a cat nap. Additionally, the  turf cat condo has unique angles and geometric shapes that any curious cat would love to explore. While it was not the overall 2018 competition winner, no one could argue that it is a spectacular design and structure. Across the country pet owners are looking to improve their homes to become more accommodating to their furry friends.
2018 Dallas Bark + Build Competition Details:
The 2018 competition features a plethora of fantastic entries for all categories. These are some of the most innovative dog houses and cat condos that you will ever see, definitely worth the time to peruse. You can see all of the entrants and the winners on the Dallas Bark + Build website. Maybe some of them will give you the inspiration you need to design your own dog kennel, turf cat condo or catio.
ProGreen's Pet Turf Experience:
ProGreen Synthetic Turf fields hundreds of calls each week from pet owners who are looking to upgrade their homes and yards to be more pet friendly. Moreover, we have a passion for keeping your pets and family safe with our quality synthetic turf. Our team knows how important your pets are to the entire family. Which is why we make and manufacture specific pet turf for every type of application you can imagine. Furthermore, ProGreen partners with pet facilities from across the country to help bring their pet areas to life. Our pet turf specialists at ProGreen will assist you in selecting the best artificial pet turf. You and your pets will love it!