ProGreen is a Proud IPEMA Member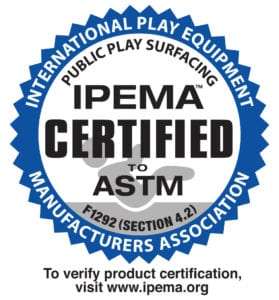 We are happy to announce that ProGreen International is now a member of the International Play Equipment Manufacturers Association (IPEMA). IPEMA is a non-profit trade association that strives to provide safety standards for playground environments. They reward and honor creative playground equipment that encourages free play and entices children to spend more time safely outdoors. At ProGreen, we share these same values and want to see children spending more time playing outdoors.
In fact, increasing outdoor playtime is one of the greatest benefits of our playground turf. With our sophisticated drainage system, water flows right through the turf, even in a heavy rainstorm. There will be no mud or puddles remaining once the storm has passed, and children are free to play safely almost immediately after the rain has stopped. No longer will the playground be closed for an entire day or two while you wait for the sun to dry all of the puddles.
As an artificial grass manufacturer, ProGreen is part of the play equipment industry, which is another reason being an IPEMA member is just a natural fit. Our synthetic turf is the perfect playground surfacing material. When you compare synthetic turf to PIP (poured in place) surfaces, our artificial grass wins every time. It is also preferable to mulch, wood chips and asphalt. It's no wonder schools and parks across the country are making the switch to synthetic turf for their playgrounds.
Thanks to associations like IPEMA, you, the consumer, are better equipped with the knowledge and standards to ensure the playground equipment you choose will provide the safe environment that you envision. Our affiliation with IPEMA showcases our commitment to meeting these high standards of offering safe playground surfacing materials.