Can Your Backyard Stand Up to a Social Summer?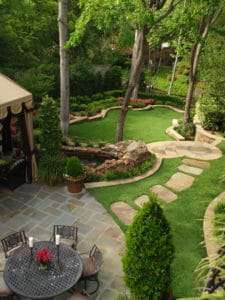 After a crazy Spring/Winter season, it looks like the cold weather is finally behind us for good, and we can look forward to summer ahead. No matter where you live, it seems summer is synonymous with outdoor gatherings. People want to be outside, soaking up the sun and enjoying the warm evenings. If you are planning on hosting your fair share of outdoor fun this summer, we have one question for you: is your backyard ready to handle the extra stress?
Yes, we love summer, but your backyard cannot necessarily say the same. The higher temperatures leave natural grass vulnerable, unless you are properly irrigating it every morning. Weeds grow rampant during this time and so do pests. The grass itself also grows at a significantly faster rate during the summer months, drastically decreasing the amount of time between mowings. However, all of this extra maintenance cannot prevent the grass from faltering under the added strain of increased foot traffic. Whether you are hosting play dates for kids, family cookouts or an elegant summer soiree, the increased number of feet running, walking, jumping and standing in your backyard will eventually result in dead spots, discolorations and eye sores.
So, you can either spend your summer weekends working hard to maintain and mend your natural grass yard, or you can take back your weekends and invest in the best grass for summer: ProGreen synthetic turf. With one product, you can eliminate all of the issues surrounding summer and yards: mowing, weeds, pests, dead spots, irrigating and discoloration, and just spend the summer enjoying your yard. No matter how much or how little rainfall your area gets, the grass will stay bright green and lush. No matter how many summer gatherings your backyard hosts, the grass will continue to look healthy and resilient.
So, can your backyard stand up to a social summer? If not, it's time to give us a call!