Why is American Made Artificial Turf Better?
The artificial turf industry is still new. This leaves a lot of room for confusion as a buyer. How can you know what's right from wrong? As modern consumers we're fortunate to have the internet at our fingertips. By having access to a wealth of information we can do a lot of online research. However, many of the articles about artificial turf are just opinions crafted by turf distributors. These distributors do this to push whatever products they need to sell. We can't blame them…that's how businesses work. You, as the customer, need to be able to sift through this noise to get to the important factors. Spoiler alert: American made artificial turf is better.
Striking a Balance Between Price and Quality
We did a simple search on YouTube to see what happens when someone looks up "Artificial Turf Reviews". Our first query shows almost 200,000 views. This is a prime example of how little the general public knows about turf quality. Here are the issues we found with the video and the five turf brands:
The reviews don't cover where the turf is manufactured.
The reviews themselves aren't actual reviews. It is a person reading the marketing/product description on the brand's website.
A couple of the products reviewed are simply a white-labeled artificial grass being sold by a distributor. Good luck finding the true manufacturing information from these companies.
A couple of the products are made in China. Moreover you don't see them mention where exactly the turf is from. More on that below!
One of reasons to purchase is "Low Price". Let's be clear; you should not buy anything just because it has a lower price. Let alone something that you intend to be a fixture of your home for 15-20 years.
It's obvious that the public needs to move away from trusting un-educated reviewers. It is very important to trust educated reviewers and turf manufacturers who have been around for decades.
How is American Made Artificial Turf Manufactured?
The manufacturing process for American turf is held to a much higher standard than non-US synthetic turf. American manufacturers must produce records of batch runs and chemical recipes to show things such as the UV inhibitors. Additionally, American manufacturers must follow strict federal, state, and local regulations during the manufacturing process. These regulations are very important when it comes to providing product contents such as lead and heavy metal contaminants. ProGreen Turf is, from start to finish, made in America. From the yarn to the backing to the coating, we assemble it all our ISO-9001 certified facilities. ProGreen's manufacturing facilities are in Dadeville, Alabama and Chatsworth, Georgia.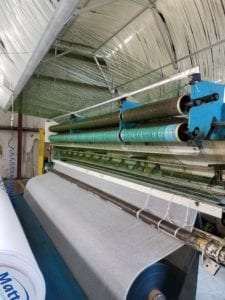 What's the Manufacturing Process for Imported Turf?
Non-American products do not undergo the same testing as American products. With imported products, you do not know what you are actually getting. Any country outside of the USA, specifically Asian countries, do not have to follow the same strict guidelines and procedures. Trying to get the records of batch runs and chemical recipes for an imported product is next to impossible.
In many cases, imported products contain lead and latex rubber compounds. These are two things you do not want in your artificial turf. These components are dangerous shortcuts that directly impact the safety and longevity of the turf. If you have children or dogs using your artificial turf, you do not want that turf to contain lead.
First of all, poor chemical composition of an imported product also leads to more defects. These defects typically aren't noticeable for the first few years. Once you do start to notice them, the small turf company that installed your turf is probably out of business. It can be very difficult to contact the manufacturer because they are overseas.
Here are some examples of common issues with imported turf:
Supporting American-Made Artificial Grass Production
Imported turf is very tempting due to its price. China utilizes cheap labor, cheap materials, reduced specifications, and lower manufacturing standards. When you buy American made turf, you are supporting and employing Americans. Buying American helps keep food on America's plates every night. If you cannot afford American made artificial turf, we would suggest going with another option for your home.
Contact Us
Do not settle for less. If you are going to make this investment, make the right choice. Do the smart thing and Buy American. Contact us today for a free estimate for artificial turf installation with our American-made products.