The Many Uses of Artificial Turf
Artificial turf has come a long way since its invention in the 1960s. It has gone from a novelty to becoming a preferred choice for many homeowners and landscapers who want to save time, money, and energy while still having a beautiful lawn. Let's explore some of the many uses of artificial grass.
Residential Yards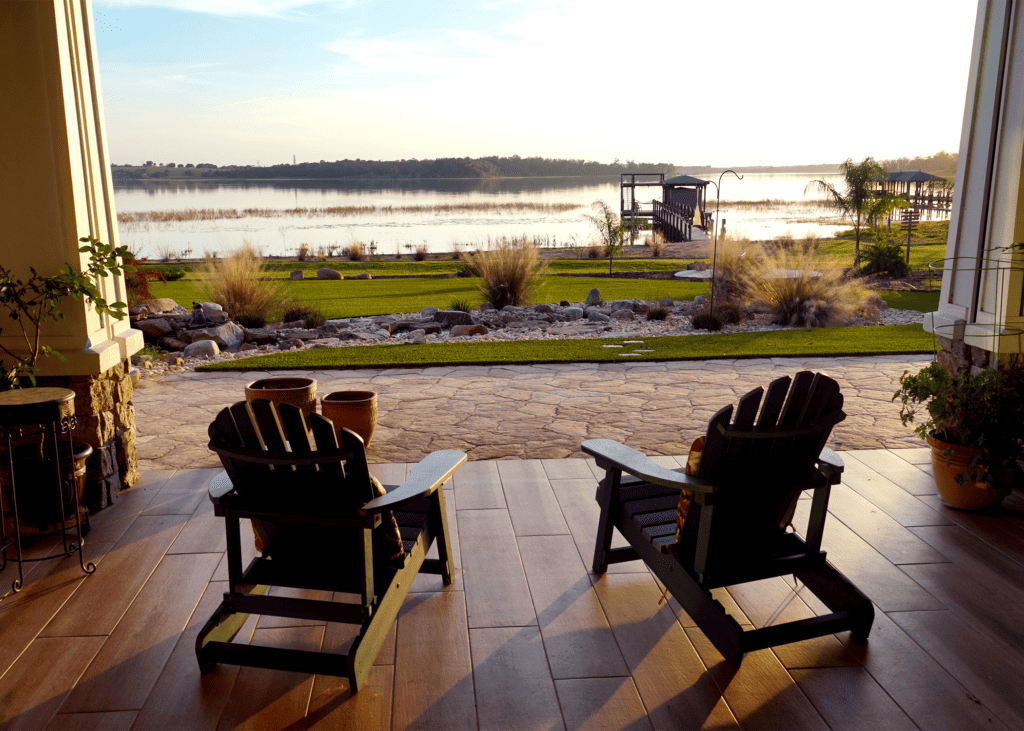 Artificial turf is an attractive option for residential lawns. Low maintenance, durability and savings on water bills are all just a few of the benefits of choosing fake grass over the real thing. Artificial turf will remain lush and green without any costly fertilizing or watering, while maintaining its perfect appearance every day. Additionally, artificial turf can also last up to 20 years and is practically indestructible, so it won't require reseeding or replacing like regular grass does. With no pests or weeds to worry about either, artificial turf provides a worry-free solution for homeowners who want beautiful lawns without any of the hassles that come with having a real one.
Kennels & Pet Owners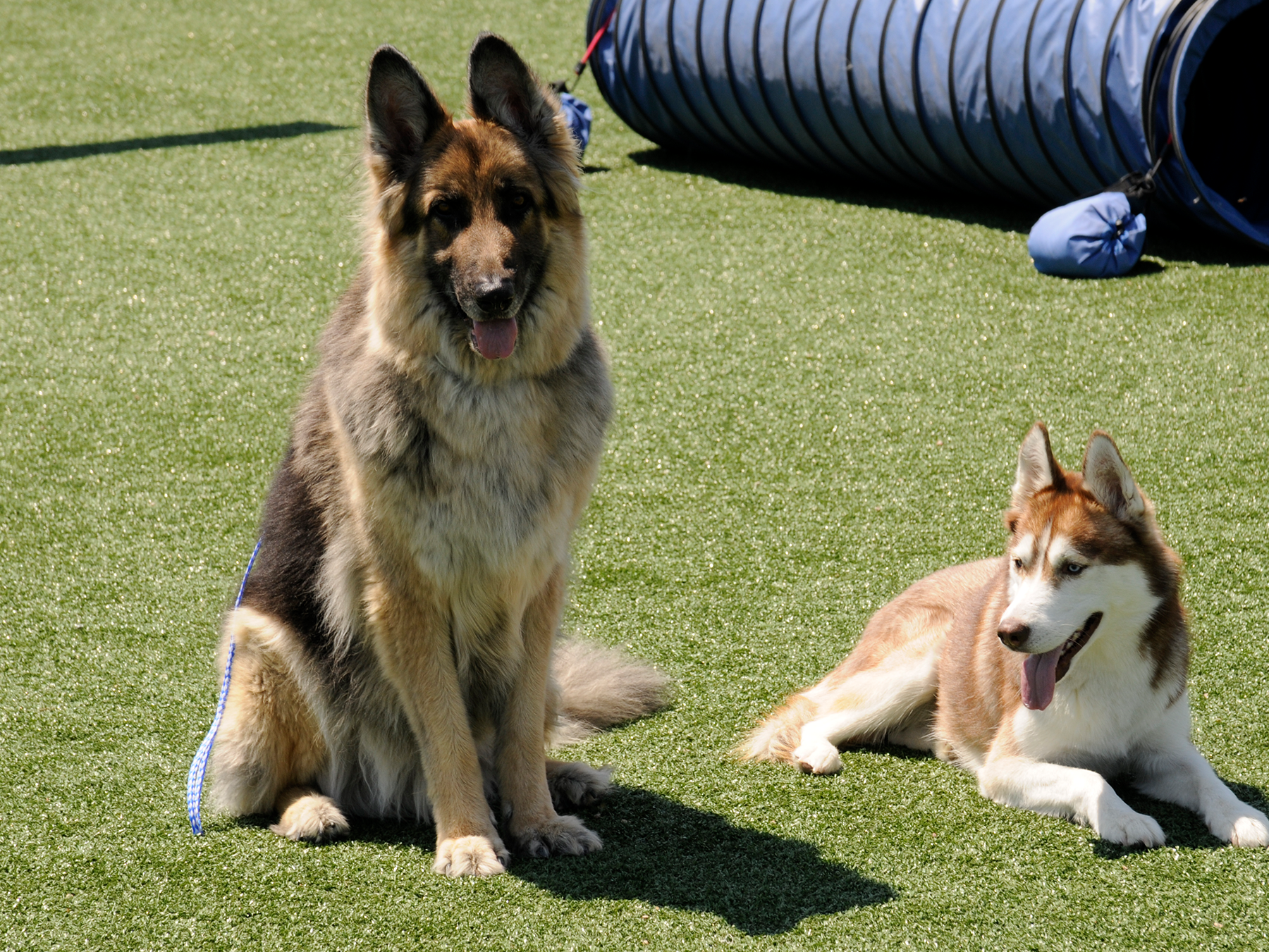 Artificial turf is a great alternative to natural grass when it comes to our furry friends. Unlike grass, turf holds up well against wear-and-tear from claws and paws. So, if your pet loves digging around in the dirt, they won't be able to with turf. Pet specific turf features an innovative drainage system that makes waste cleanup easy and keeps your pet's paws mud-free. This turf can also handle immense amounts of traffic and play from your four-legged friends, providing you peace-of-mind that your turf investment will stand the test of time.
Click here to learn more about our high-quality pet turf line.
Golf Putting Greens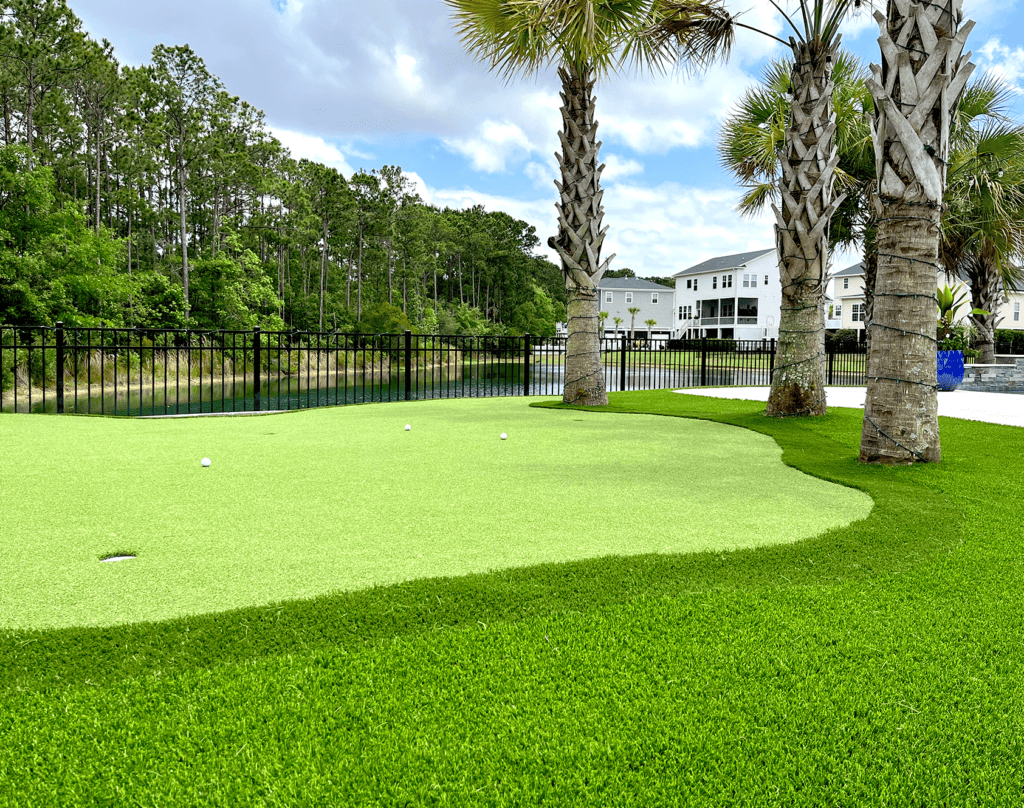 A synthetic grass putting green makes a great addition to any home. Practice your chips and putts year-round without having to drive to the golf course. Unlike traditional greens, artificial turf requires no maintenance–giving you plenty of time to focus on your game. Putting green turf offers a true ball roll that is consistent in speed, allowing you to practice more effectively while honing in on your precision and accuracy skills. You can easily adjust the difficulty of the green by changing its shape or elevations to give you different types of challenges while improving your short game. A backyard golf green is the perfect at home activity to entertain family and friends.
Hardscape, Patios, and Pavers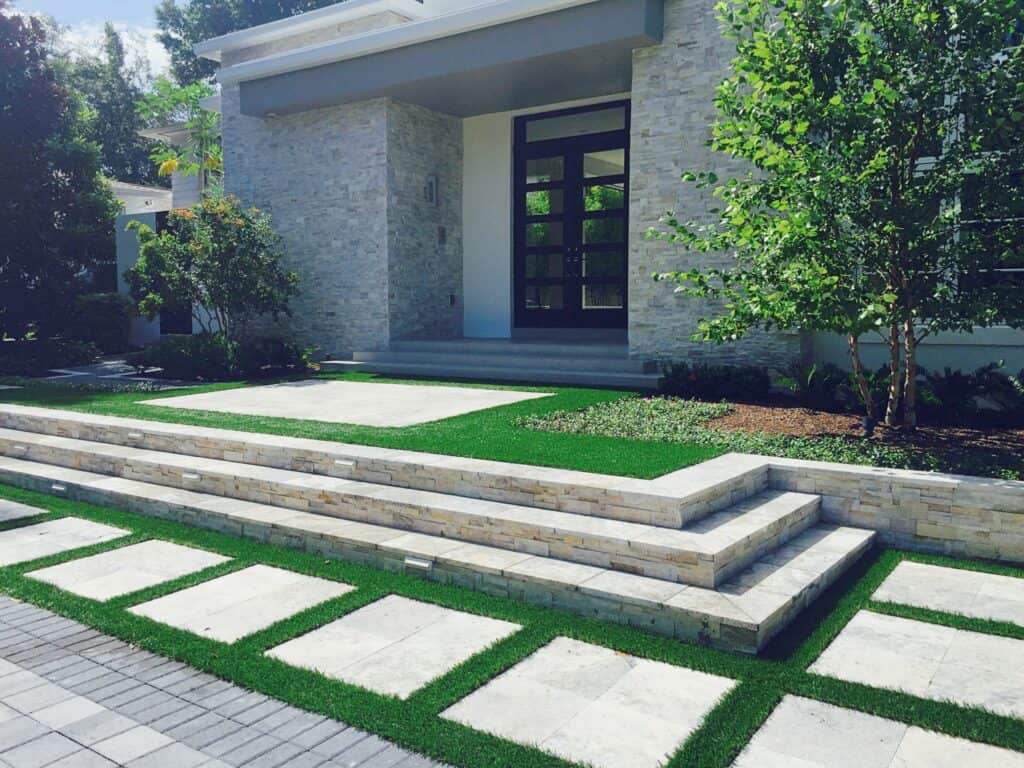 Synthetic turf is the perfect compliment to your walkway or porch. It looks natural and adds an aesthetically pleasing look. No more worrying about the labor intensive mowing, fertilizing, edging and weed control required with natural grass; all you have to do is simply brush the fibers occasionally. Artificial turf provides depth to any area as its lush green color livens up even the dullest of sidewalks or porches. Finding the perfect balance between hardscape and softscape puts you one step closer to achieving the perfect outdoor paradise –so why not incorporate artificial grass?
Pool Surrounds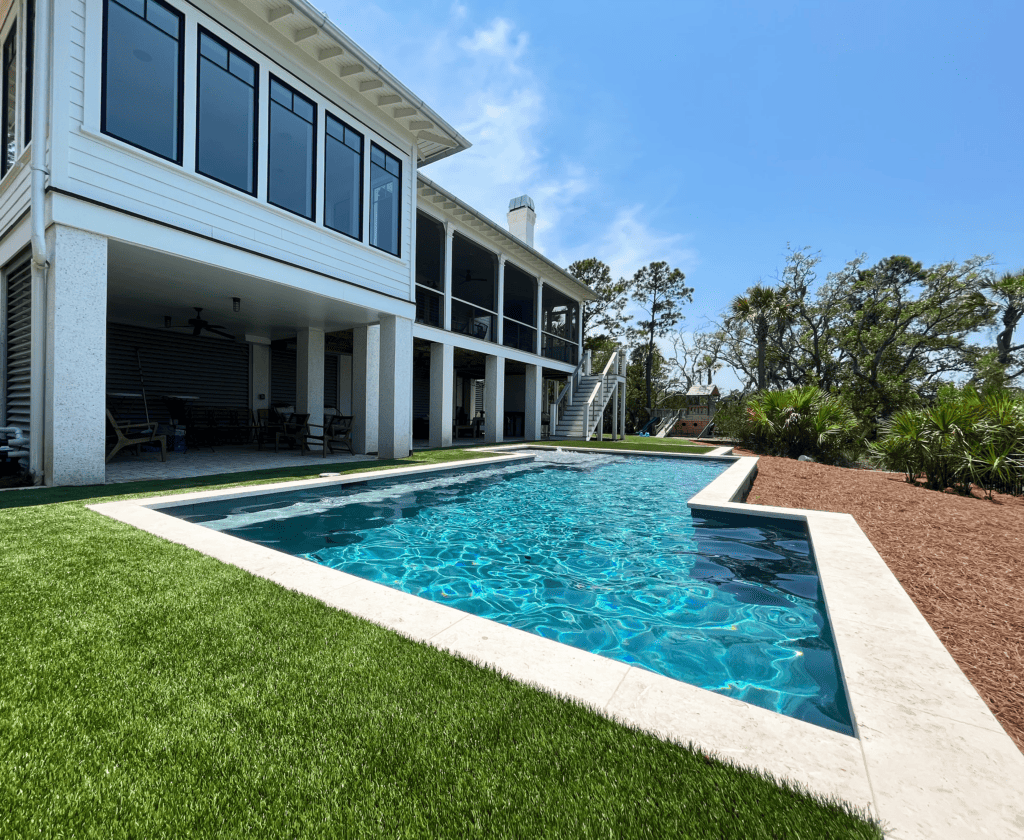 Artificial grass is ideal for pool areas because it stands up well against water exposure and won't get too hot when exposed to the sun like real grass would. It eliminates clippings caused by natural grass and lowers your non-pervious property ratios. This makes it safer for kids (and adults!) who want to wade in the pool without getting burned on the ground. Plus, artificial turf looks great around pools – adding a touch of luxury without the hassle of maintaining real grass.
Sports Fields & Playgrounds
Artificial grass is often used on sports fields because it requires very little maintenance compared to natural grass. It is also much more durable than natural grass and can withstand heavy usage from players without showing signs of wear and tear. Additionally, artificial turf is perfect for playgrounds because it provides cushioning if children fall down while playing. This helps reduce the risk of injury and makes playgrounds safer for kids! Schools and public parks everywhere are continuing to transform their parks and playgrounds with artificial turf. This switch is reducing the use of painful woodchips and mud while allowing for more comfortable and safe playtime.
Read more about our kid-friendly turf options here and more about our sports field installations here.
Commercial Areas
Physical appearance is very important when it comes to attracting customers. Businesses everywhere are transforming their properties with artificial turf. Turf is a highly efficient solution that requires minimal maintenance, making it perfect for busy business-owners. It looks great every day of the year, helping eliminate the time and money spent on lawncare. Not only does this create an aesthetically pleasing atmosphere for customers and employees alike, but also provides a sense of modernity and professionalism to the business itself. Investing in artificial turf is a smart choice for businesses looking to cut on costs while also creating an attractive outdoor space for customers.
Indoor Spaces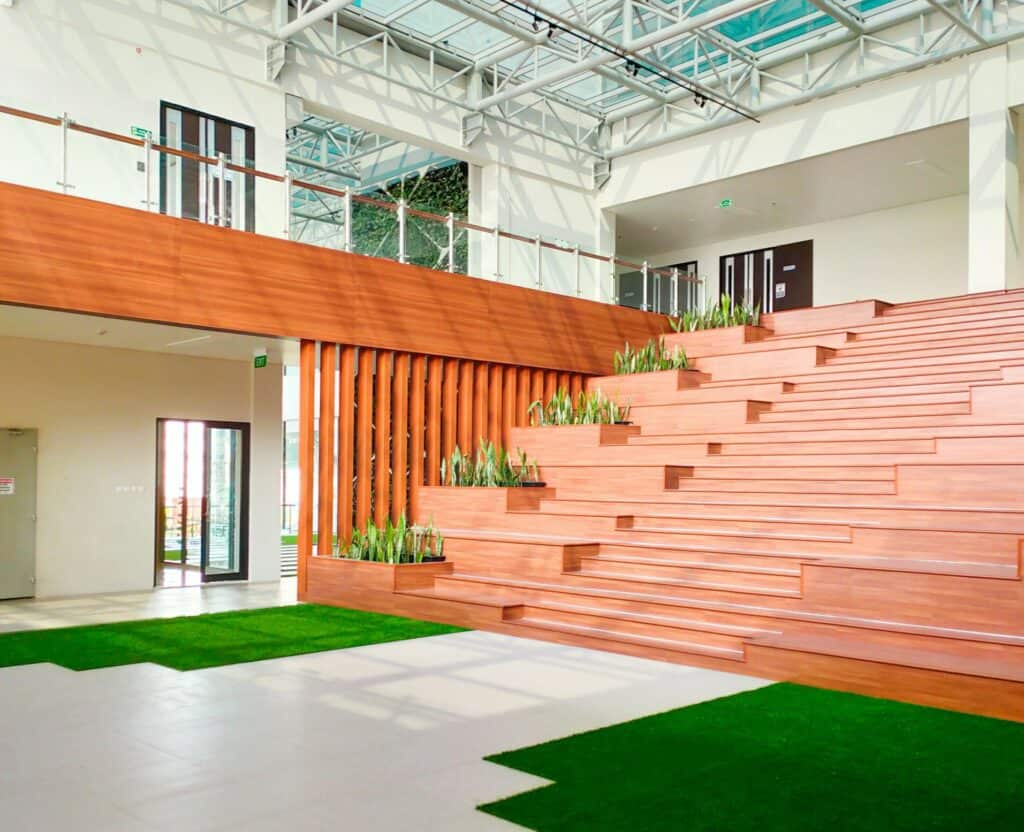 Artificial grass can be used not only in outdoor projects but indoors as well, thanks to its versatility. Inside, turf can be used as a decorative element by adding texture and color to any space. Instead of carpet, opt for turf for your office space, entryway, or lobby. Additionally, you can install turf to your wall for a perfect photo backdrop! Artificial turf will bring some greenery and life to your space without any of the maintenance required of natural grass!
Balconies & Rooftops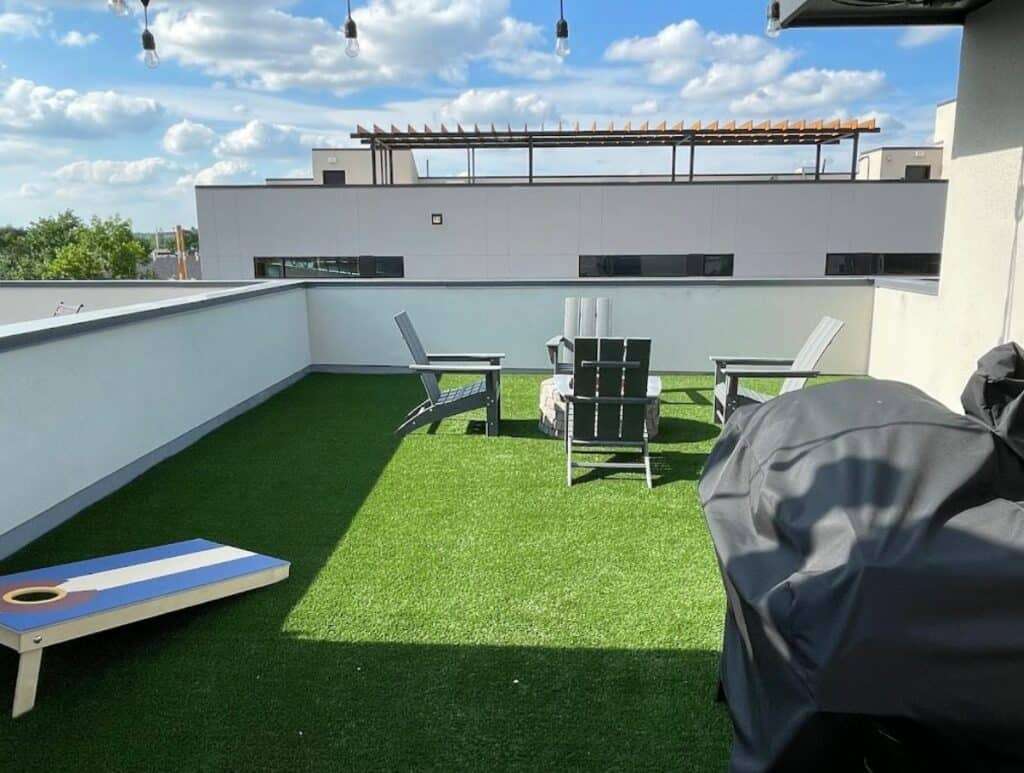 If you don't have a lot of ground space available but still want to add some greenery to your home, consider installing an artificial grass rooftop garden! Synthetic turf makes it easy to create an oasis atop your home or balcony without worrying about drainage problems. Not only will it provide an attractive accent to your outdoor space, but it also offers cushioning that makes it comfortable to stand on while you're entertaining guests or enjoying dinner outside. Plus, since this type of garden won't require any real maintenance aside from occasional cleaning, it will be one less thing on your weekend chore list.
Gyms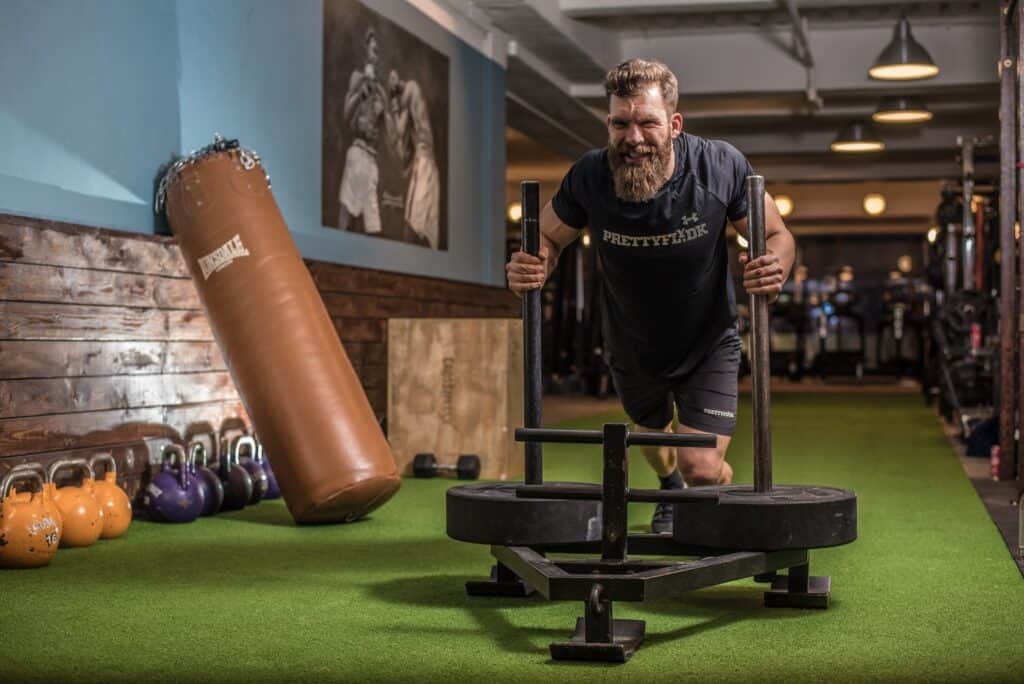 Artificial turf is a great option for gyms and sports facilities alike. Not only does it provide a unique look, but it also offers many advantages over traditional flooring materials. Artificial turf is specifically designed to be durable, long lasting, and low-maintenance, meaning that it can withstand intense physical activity with little upkeep or repair needed. Turf provides better traction than most other types of gym flooring, helping reduce slips and falls while exercising and providing a stable base for people to practice their moves on. It can also help dedicate certain areas of the gym by using different colors of turf. Fake grass is the best choice when looking to add a durable, safe surface for members.
Miscellaneous Projects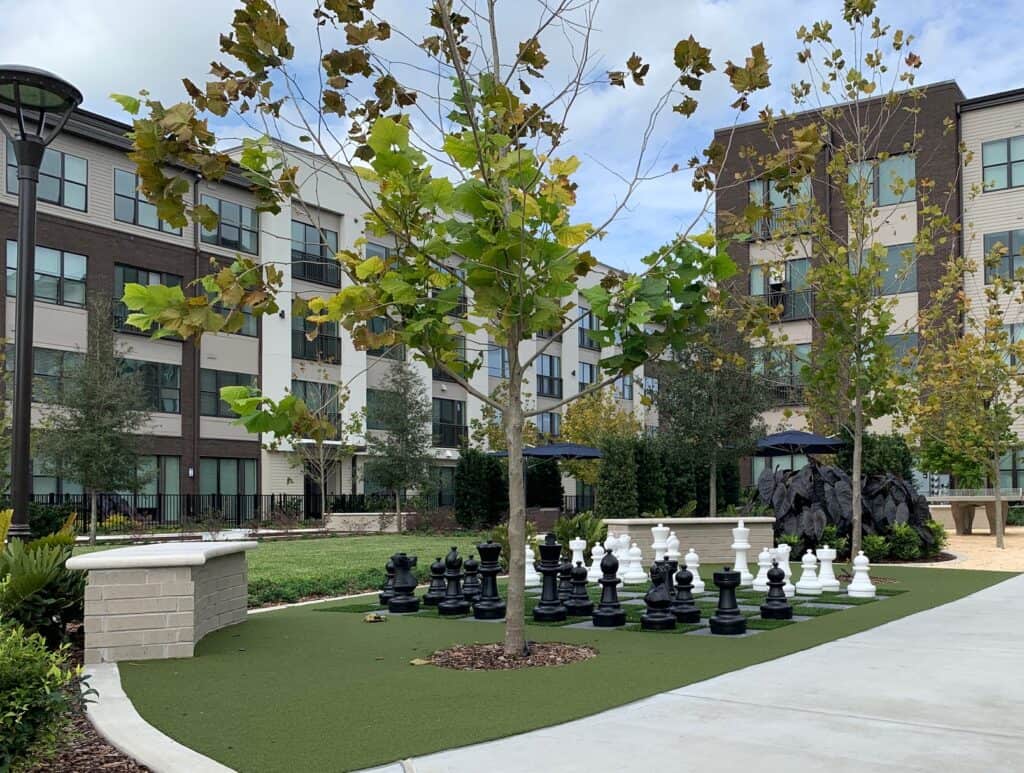 There is more to turf than just front yards and putting greens! There are so many unique ways to utilize artificial turf. One example is creating a giant chess board for friends and family to play and enjoy some time outdoors! Another option is putting artificial turf in your office. It will bring a little bit of life to the workplace and replace that boring carpet. Have a great idea but don't want to purchase turf? Some products can be rented for special occasions such as weddings or exhibitions!
Whether you want to create an inviting backyard oasis or make your roof deck look extra special – artificial grass has got you covered! Its durability and low-maintenance qualities make it ideal for both residential and commercial use – from playgrounds to balconies and everything in between! So get creative with how you use artificial grass; there are no limits when it comes to turning your outdoor areas into something truly special!
---
Interested in learning more about artificial turf?
Let us know how our turf specialist can help you today!
---