ARTIFICIAL TURF ORLANDO
If you're looking for a truly professional artificial turf in Orlando, Progreen is who you want to entrust with your project. Not only is ProGreen of Orlando comprised of the most talented, world-class artificial turf installers in the country, but we also only utilize 100% American made synthetic turf in Orlando.
Whether you're looking to install artificial turf lawn, add an amazing backyard putting green, or provide your pets with a durable and safe surface to play, ProGreen Central Florida has you covered.
Benefits of Switching to Artificial Turf:
Save on Watering
Increase Your Home's Value
Family Fun and Great Parties
Easy Maintenance
Why Artificial Turf Makes Sense for Orlando
If you currently live in the Orlando area you're familiar with its high levels of precipitation. You typically can expect to see a daily precipitation chance of 40-70% from May to October. This high level of precipitation can make it difficult to maintain a good looking yard. The main issues that our team see's are puddling and pooling of rain water around homes. The constant presence of water can lead to foundation issues, drainage concerns, and muddy yards. If you're a pet own you know what a muddy yard can produce (muddy paws). Typically when you're furry friend starts rolling around in the mud they tend to bring their mess indoors. This can lead to muddy floors, carpet, and furniture. Which is why if you're looking to install artificial turf in Orlando, you're going to want to call ProGreen. Our team of synthetic turf experts have the knowledge and experience to help you select the best type of artificial grass for your home.
Benefits of Installing Synthetic Turf in Orlando
Additionally there are a lot more reasons why it makes sense to install turf in your Orlando residence. First of all artificial grass looks amazing year round! With no watering and little maintenance you get to be the envy of your neighborhood, without even breaking a sweat. By installing artificial grass you also can transform any un-used area into a gorgeous play space. You can turn your backyard into the families favorite area to hang out. During the installation our team also installs a permeable base layer of foundation beneath the turf. This sub-layer directs any water away from your home. Thus, eliminating any flooding or drainage issues have.
Artificial Grass is Environmentally Friendly
One of the biggest benefits that our customers share with us after the installation of their synthetic turf yard is how much less water they use. Since our turf does not required any water you will start to see an immediate reduction in your water bill. Secondly, your new turf yard will no longer require the addition of harmful chemicals. With a natural grass yard its common that you have to dump harmful chemicals into your yard year-round to maintain that lush green look. With ProGreen's Synthetic Turf system you will never have to worry about using those chemicals ever again. Not only do those chemicals run-off into the groundwater supply but they can be very expensive. Finally, you will no longer be expelling carbon dioxide emission into the air with your gas power lawn equipment.
Taking the Next Steps
Now that you have decided to install artificial grass in your Orlando home, its time to compare apples to apples. Make sure to ask any company you work with, where there turf is being made. ProGreen's Artificial Turf is 100% Made in America. Our turf production standards are the same as children's toys. We strive to provide all of our customers with the safest and highest quality turf in the Country. We have some key questions that you should ask any company that is going to provide you with a quote for installing turf. Finally, you can take a moment and fill out a contact form with ProGreen and one of our team members will personally deliver you a Free Custom Estimate.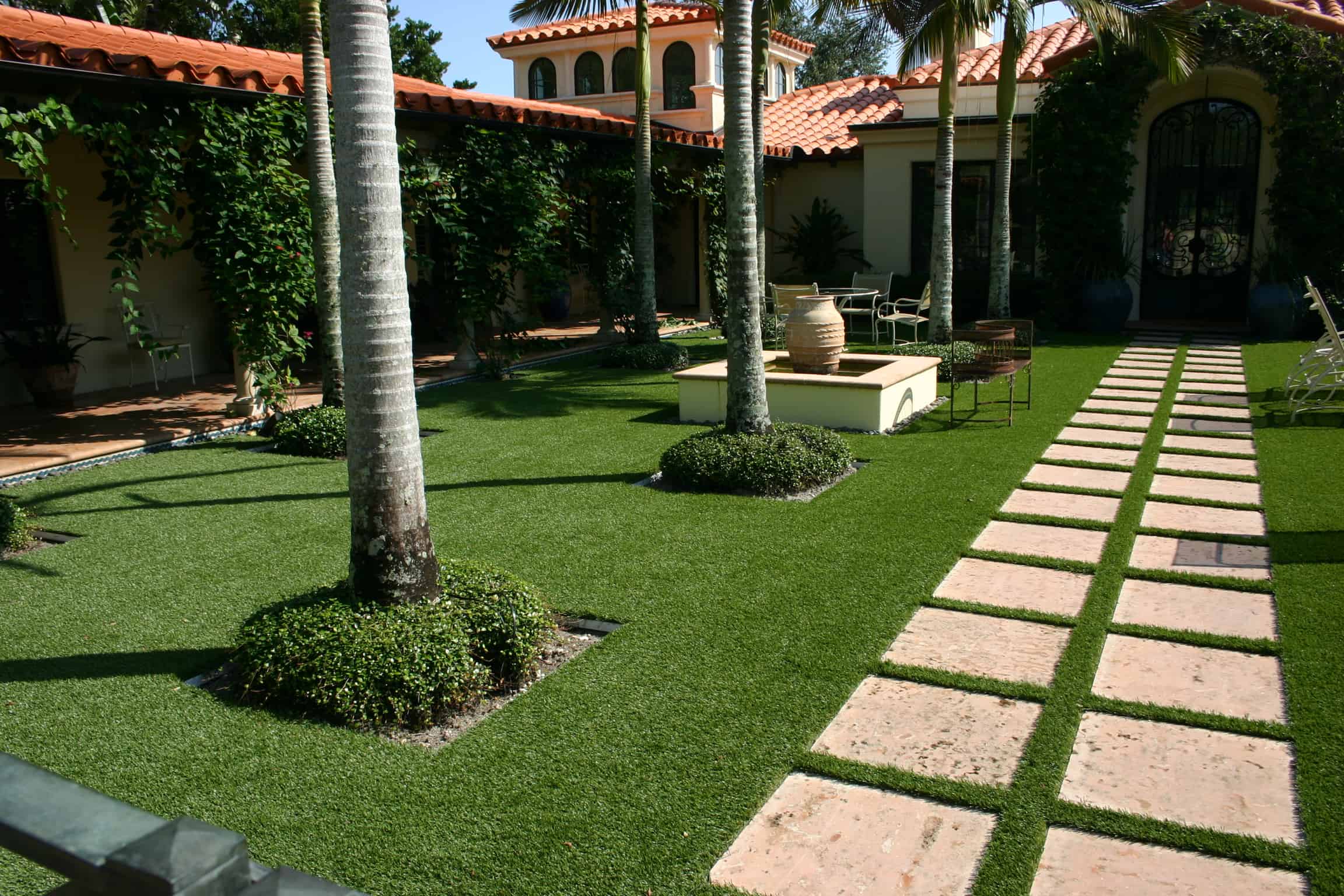 Thank you Artificial Artisans and Matt for your great service and product! We had our turf installed about three years ago and never regretted it for a second. When having a minor issue due to a root decomposing, the crew was out very quickly to resolve it. I have recommended this company to many friends and will continue to do so.
- Karen S
I had a project that required a major slope of installed artificial turf in our backyard. Another installer referred me to Ken Pool and said Ken is "the best installer in town" and trusted this more difficult job with Artificial Artisans and they delivered. They did an amazing job. I could not have asked for a better team. Andy, his second in command, ran his crew with total professionalism, always on time, explained what they were doing, and most importantly for me, worked clean with no damage to my existing landscape. If you are thinking of installing artificial turf in Orlando, look no further than Artificial Artisans. Highly recommended.
- Walter B
I recently worked with Ken and his team on a project at my new office space. Ken was very professional and responsive throughout the entire process. Every aspect of my experience with Artificial Artisans exceeded my expectations. I will definitely be using this company again and referring them to as many people as possible.
- Tom N