ARTIFICIAL TURF IN SEATTLE, WA
For artificial grass installation in Seattle and the surrounding areas, our ProGreen authorized dealer, Dzingle's Landscape, is second to none. They are a family owned and operated business that was established in 1980. It is remarkable that they are approaching nearly 40 years in the landscaping industry, and they bring all of their years of experience to you and your project. They know the Seattle terrain and conditions better than any other synthetic turf installation company in the area, and they use this knowledge to ensure you are getting the best product to match your specific needs.
In their years as a ProGreen dealer, Dzingle's Landscape has completed residential projects, commercial projects, custom dog runs, playground surfaces, putting courses and more. One of their most notable recent projects includes the putting course at the Snohomish Valley Golf Center. In addition, they are one of the only companies in the Seattle area to have received approval from HOAs to install artificial grass in front yards.
With so many years of experience working in a competitive industry, it is no wonder that Dzingle's Landscape has established themselves as one of the top installers of synthetic turf in the Seattle area, and there are a myriad of rave reviews online that support this claim. So, whether you are looking for synthetic turf for lawns, dog runs, putting greens or swimming pool surrounds, ProGreen synthetic grass and Dzingle's Landscape have you covered. Our products provide a solution to all of your existing landscape problems and there is no one better in Seattle to install it than Dzingle's Landscape.
If you would like more information about synthetic turf and the various products available, please call us today to speak to our Seattle-based certified installer, Dzingle's Landscape.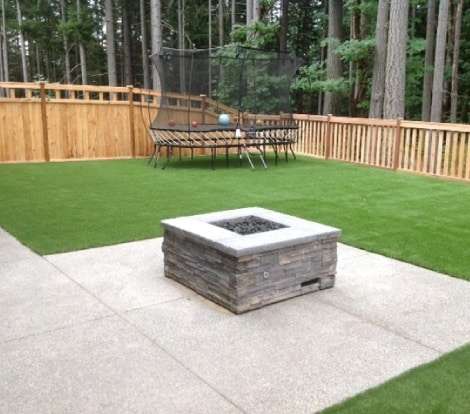 Recently had Dzingle install some synthetic turf in my back yard, and couldn't have been happier with the result and process. His crew was knowledgeable and efficient! They left the entire yard looking AMAZING, and made sure everything was spotless before calling the job done. I put out 4 bids for this, and Dzingle was by far the most thorough and provided by far the most value. Also helped me through the HOA paperwork, a big plus. Highly recommend Dzingle and his crew!
- JUSTIN L.
"I just wanted to tell you that I contacted your firm in April 2000. The dealer from Ontario, Canada was here by noon the next day. He explained everything in great detail, and I decided to buy the 12′ x 16′ putting green. It was put in last week, and we wanted you to know that your distributor does credit to your product and the way they carried the job out in a good business way. I am very happy with my putting green. Thanks for being on the net so I could find you in the first place."
- JOYCE FAYLE
SCARBOROUGH, ONTARIO, CANADA
"I cannot thank you enough for your dedication to your craft. The turf is beautiful (and obviously laid 10,000xs better than my dad and I could have ever done) but above all, thank you for your kindness and patience. It's not common to come across people in a business that are not only fantastic at what they do, but provide a wonderful customer service experience at the same time. In the event I make it big and ever expand into a new space and need new turf, you'll hear from us again. Again, thank you so much for everything!"
- CHRISTINA MONTALVO
PERSONAL TRAINER/ NUTRITION COACH CHICAGO
TAKE YOUR WEEKENDS BACK FROM THE MOWER
ProGreen can help you find the perfect turf.
"*" indicates required fields